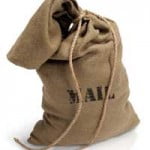 Gentle Readers,
A couple more missives have come in.
The first is from Operative FJR, who writes in from a secret mission to the North Pole to get 'Puter switched from the Naughty to the Nice list:
Dr. J.,
Thank you for the post on the new Christmas tree "fee". I was naively surprised that the Executive Branch could levy a "fee" (tax!). My understanding was that only Congress could can levy taxes and raise revenue (Article I, Section 8). So I searched the internet for a copy of COMMODITY PROMOTION, RESEARCH, AND INFORMATION ACT OF 1996. I skimmed a good portion of the text (I tend to slip into a comma when I read legislation or legal documents) and my interpretation is since we don't waste enough tax payers dollars with the Department of Agriculture someone thought it would be a great idea to have Department of Agriculture establish marketing research groups for commodities. After all, we all know that Govt does stuff so much better than private industry. I guess the Govt has to do the marketing research since the agricultural industry really doesn't operate in a free market (farm subsidies). So let me get this straight, the Govt provides subsidies which skews the market and then has to collect fees to do marketing research for the market they just skewed (or screwed as the case maybe). Makes perfect sense?
The most important point here though isn't the screwed up agriculture market but the fact that the Legislative Branch gave the Executive Branch to power to raise revenue. I'm not a Ron Paul fan but I'm beginning to see his disgust with the current state of affairs and how far we have moved from being a Constitutional government.
This is one of those days where I have trouble maintaining hope that we can work out of this mess.
FJR
Operative FJR,
You are spot on. This was just a load of unnecessary BS from the Executive Branch. Remember, Obama has said a few times since the Republicans took the house that he was going to do act without Congress at every opportunity. Dr. J. suspects some foolish White House Aide combing over the CFR for regulations where he could impose new fees stumbled across this one. Fortunately in the hours since the Gormogons let slip the dogs of war, President Obama heard the voice of the people and hit the 'undo' button. Sadly, he didn't get the same memo about Obamacare. Dr. J. would gladly pay a $15 tax on his Christmas Tree to get a box full of repealed Obamacare under his tree.
Operative SMC also writes in:
Dr. J,
Saw this morning's post and just wanted to let you know my Dad had exactly that, bicuspid aortic valve. He had his chest cracked open when he was in his 50s by Dr. McCarthy at Northwestern University Med Center here in Chi town. He's one of the best if you want to pass his name along to the other emailer. He was at Cleveland clinic till Northwestern enticed him to return to Chicago. NW offers pig, cow and artificial (cow lasting the longest). Cleveland clinic is also a great place for it because they offer all those plus human which they say is to never need replacement. So, figured I'd write just in case you wanted to pass the info along. Of course if the guy is no where near the Midwest he'll want to find top performers near him.
Best, SMC
SMC,
Glad your dad is on the mend. Dr. McCarthy has a terrific reputation. Dr. J. has friends at Northwestern, so he knows that it is a fantastic place. New Atlantis has a couple of hospitals with a number of fine cardiac surgeons to choose from as well. In addition Cleveland Clinic, Mayo Clinic, Texas Heart, Mass General, Brigham and Womens, and the Hospital of the University of Pennsylvania all have top notch surgeons, and Dr. J. knows people who travel from far and wide to have their valves dealt with there. Tyrone David, at the University of Toronto, is also sumthin' else for those who are north of the border.
Now Dr. J. could use this opportunity to wax poetic about the history of heart valves, and the pros an cons of the different types, but he would probably be given a Boot to the Gut™ by Mandy, who had an awesome post yesterday, if you didn't get a chance to read it.