Mailbag -Stentastic Fan Mail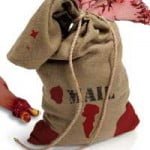 Dr. J. received a couple of missives regarding his recent Medical Roundup.
The first is from Operative Æ
Dr. J,
Jonah Goldberg directed me on to The Gormogons a several months ago and I have been a loyal subject since. Thank you for the post today concerning transcatheter aortic valve replacement. In July I was in a severe automobile accident. Fortunately my only injury was bruising on my chest from the air bag deployment, the chest harness, and the steering wheel. All of which took several weeks for the pain to subside. However, on the final follow up to my family doctor, he heard something unusual in my chest. After a visit to the cardiologist and echocardiogram, I was diagnosed with aortic stenosis. This led to a visit with the surgeon and on to the heart cath. Fortunately, my arteries are quote, "crystal clear"; however the aortic valve is calcified to the point that I could see it on the screen during the cath. Considering my family history (paternal grandfather and uncle died of heart attacks at 47 and 39 respectively and my father has undergone triple bypass in 1988, angioplasty and stents in 1994, single bypass and aortic valve replacement in 1998, and angioplasty and stents in 2006, additionally my paternal aunt is being observed for progression of her stenosis) I am extraordinarily happy my only problem is stenosis. I am 44 and remain asymptomatic and otherwise healthy and fit, however, I was scheduled for valve replacement surgery last week and would be recovering right now except I was suffering from a lingering virus/infection which delayed surgery a couple of weeks as my surgery is somewhat "elective" (That is elective as long a I do not wish to pick up anything over 30 lbs, exercise what so ever, or chase my 9 year old around the yard, HA!). Sorry for being so long winded, however, I say all of that to say this. My surgeon mentioned this procedure; however, he did not really explain it. Thank you very much for the diagram and explanation. I completely understand I am not a candidate for this procedure now. However, as I have elected valve replacement with a tissue valve, I understand that valve will most likely need to be replaced by the time I am 60. This gives me hope that quite possibly, in the next 15 years it will not be necessary to crack my chest open again for the replacement. Thank you again for the simple break down of the installation of the valve. Always a loyal Gormogon subject.
Operative Æ
Dear Operative Æ,
Thank you for writing in.
Given your young age, I would dare presume the reason for your aortic stenosis is likely a bicuspid aortic valve. This is a congenital defect affecting about 1 in 100 individuals with a greater propensity for males (1 in 80). Bicuspid aortic valves tend (for reasons more complicated than being bicuspid) to become narrow, or stenotic fairly quickly, requiring replacement in the 5th or 6th decade of life. Normal aortic valves that become stenotic tend to be replaced in the 8th or 9th decade of life.
I am happy to hear you enjoyed the post. Ya, fortunately, you are too healthy for a Sapien Valve or to participate in the CoreValve trials. Given the short term risks of the procedure at present, you are better off with an open operation by a good surgeon. We have gotten to the point where the bleeding risk of coumadin over the lifetime of a mechanical valve exceeds the re-operation for a bioprosthetic valve. So the tissue valve is a good idea. Now who knows what the technology will be in 20 years regarding a percutaneous approach. However I will caution you regarding banking on that approach in your 60s as with the current technology, I don't forsee the deployability of a percutaneous valve within the bioprosthetic valve without causing a functional stenosis caused by putting a device within a device.
Regardless you will be in our prayers with regard to your upcoming operation. Let us know how the operation goes!
In addition, The Royal Exchequer, SW writes in regarding the pox parties:
Dr. J.,
I suspect these have their root in pre-vaccine days. I can recall my mother trying to ensure my sisters all got German Measles so that they wouldn't have to worry about catching it later when they were pregnant and the chance of birth defects high. Of course she stopped hauling them around for that purpose once the vaccine became available, not the other way around.
Ye Royal Exchequer, SW
SW,
Thanks for writing in, and thank you also for depositing all of Dr. J.'s technical fees for treating arrhythmias with force lightning. He appreciates it.
This is really interesting. While Dr. J. would NEVER advocate exposing your child to an illness so as to protect them later in life, the German Measles (rubella) itself is a very mild illness. The problem with German measles is that it can cause horrible congenital defects in a baby if mom catches it while she is pregnant. (blindness, deafness and mental retardation). Dr. J.'s English teacher back in high school had rubella when she was pregnant with her daughter and she was born with this syndrome. So the risk/benefit in the pre-vaccine era makes more sense than these pox parties. Dr. J. is grateful that these vaccines exist so that we no longer have to resort to such barbaric methods of developing immunity to these transmittable illnesses.