Mailbag – Little Fish, little fish, swimming in the water edition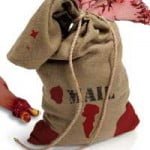 Dr. J. is finally getting around to answering his mail.


The first one is from Operative SM, who sends this missive in to us:
Dear Dr. J,


Good God; inevitable and awful.



US man sues over girlfriend's theft of sperm


Sincerely,
SM


P.S. – [per a previous conversation] Speaking of hearts, the whole video is great, but starting at seven minutes they show the development of the fetal heart with the micro scans.
Dear SM,
I agree with you regarding the tragedy of issues such as this. When Dr. J. was a student at Ivy University, there were advertisments in the school paper seeking to pay highly for sperm and egg donors from elite colleges. My friends and I, got into a discussion during a Sunday brunch about the legal ramifications of being a donor. One obvious concern was if you were somehow identified as the parent, and were financially successful you could be sued for child support. If the reports were true in your article, this one hits closer to home for the client because the client and his girlfriend were in a consensual sexual relationship (albeit one where the presumption was that pregnancy was not the goal of the exercise). Our discussion related to the strength of the firewall between an anonymous donor and the recipient of his donation. A secondary element that came into our discussion was what happened 18 years hence. Could the product of such a union (if one were to call anonymous in vitro fertilization or intrauterine insemination a union) a legacy for the Ivy League institution of the sperm donor, as an applicant can list their living relatives who are alums on the application.
Regarding the Yale Scientist visualizing conception to birth. Dr. J. caught it on teh interwebs. Heart formation is pretty cool stuff when it goes well. When it doesn't it can be pretty interesting how things can be done to reroute the plumbing, or even when it corrects itself.
Thanks for writing.
Dr. J.
Operative BG also writes on regarding the Big Tuna:
Dear Dr. J.,
This is yet another example of the hidden hand of the EFTA – the Easier For Them Association. Said organization was unmasked almost a decade ago by National Review's John Derbyshire: The aim of this secret brotherhood is to infiltrate all organizations whose chartered purpose is to serve the public in some way. Once they have taken up key positions in such an organization, the EFTA moles then set about subverting all its processes and procedures — enlisting the aid of corrupt or unsuspecting legislators when necessary — so that the work of the organization, instead of being oriented towards true public service, is redirected towards the ease and comfort of the organization's employees… It's hard for EFTA to make much headway against the logic of the market. In the public sector, on the other hand, EFTA really comes into its own. You just have to pick up a newspaper to see them at work. An excellent piece of dogged work by NOAA's vigilant sleuths – taking a fisherman's phone call, and driving down to the dock to confiscate his fish. An excellent investment of taxpayer dollars. Any bets on whether the proceeds from the consignment sale of the fish will cover the expenses associated with the operation? I'm reminded that the Endangered Species Act encourages landowners to deliberately kill endangered animals found on their property, and destroy the body, on the rationale that once an endangered species is found on your property, government regulations will immediately make your land worthless. What has our fisherman learned? That he's better off without a license to catch tuna, and if perchance he again accidentally catches one, it's best to STFU and quietly sell it on the black market.
Best, BG
Dear BG,
I couldn't have said it better myself. The Czar could have, but he's crafty that way. Your point that excessive regulation not only increases cost, it also creates black markets that necessarily meet demands at lower costs, short-circuiting the the market. Another example of such a market is the child-care market. Dr. J. knows plenty of people who hire a college student to work 10 or 15 hours a week picking kids up from school and shuttling them to various and sundry practices or home to get started on homework. Dr. J. seriously doubts that either side reports this transfer of cash for services rendered as the work to do so far exceeds the amount of time saved by hiring said babysitter. Thanks for writing in as well.
Dr. J.