The Latin Word For "Left" Is "Sinister"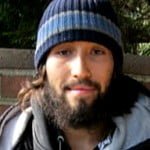 Isn't this always the case?
First, we are all grateful that no one was harmed in the attempt; although the President and First Lady were thousands of miles away from the White House, the Czar isn't sure where the daughters were. For all we know, they could have been in the White House when Oscar Ortega-Hernandez fire two rifle rounds into the upper level windows. It is difficult to even think about that.
But here you go: the first—and let us hope only—attempt on the President was not committed by an angry, white, Tea Partying Christian racist thug. It was committed by a die-hard Leftist. One of the 99% by all accounts, although the Occupy folks are trying hard to disassociate themselves with this fiend—when, of course, they aren't holding rallies in support of his action.
The media is getting this all wrong, of course. They are downplaying his association with Occupy; outlets who do acknowledge this are failing to point out the widespread support he is getting from them. Why? It harms the Democrats's nonsensical support of their cause. Hey morons—these Occupy folks don't vote: they hope to use small numbers to overpower. They aren't going to pull a lever for a Democrat, unless of course it's on a hangman's scaffold.
What results is the weird, uncomfortable reporting that happens when the media screws up. And they did screw up—first, they bought the story that no shots were fired near the White House. Then they were forced to report that someone did shoot at the White House. Now they are having to slowly introduce the possibility that this is all linked to the Occupy crowd's increasing violence without admitting they blatantly mollycoddled and even worshipped this group. Good luck, chumps.
We better hope Ortega isn't the 99%, but the .00001%.

Божію Поспѣшествующею Милостію Мы, Дима Грозный Императоръ и Самодержецъ Всероссiйскiй, цѣсарь Московскiй. The Czar was born in the steppes of Russia in 1267, and was cheated out of total control of all Russia upon the death of Boris Mikhailovich, who replaced Alexander Yaroslav Nevsky in 1263. However, in 1283, our Czar was passed over due to a clerical error and the rule of all Russia went to his second cousin Daniil (Даниил Александрович), whom Czar still resents. As a half-hearted apology, the Czar was awarded control over Muscovy, inconveniently located 5,000 miles away just outside Chicago. He now spends his time seething about this and writing about other stuff that bothers him.