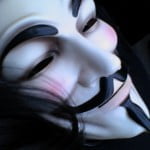 Basically, the plot of V for Vendetta involves a horribly disfigured guy who conceives of a master plan to topple a cruelly and liberally fascist British government. Almost: something is never quite right about the plan until he meets Evey, who provides the missing element that makes his plan a success: someone worth saving the world for.
The movie was a big hit among conservatives, even though many morons perceive the movie as anti-conservative. The whole Lewis Prothero—that guy is Rush Limbaugh, right? No, that guy is Goebbels. And John Hurt's character…isn't he George Bush? No, that guy, Adam Sutler, is Adolph Hitler, you chuckleheads. His political party, Norsefire, is an entire Aryan-thing. And you know to what side the Nazis leaned, right?
Anyway, it astonishes the Czar that the Occupy folks, as directed by their secretive handlers called Anonymous, wear the Guy Fawkes masks from the movie. Evidently, this is to show that they are like the character V: a violent anarchist lashing out against Republican conservativism.
Except, of course, V was not an anarchist, but wanted to restore the common person to established government. He used diabolical means, and was very much an anti-hero, but his enemy was liberal fascism.
If the Occupy fools wanted accuracy, they might wear a John Hurt mask, since that is who they seek to become.

Божію Поспѣшествующею Милостію Мы, Дима Грозный Императоръ и Самодержецъ Всероссiйскiй, цѣсарь Московскiй. The Czar was born in the steppes of Russia in 1267, and was cheated out of total control of all Russia upon the death of Boris Mikhailovich, who replaced Alexander Yaroslav Nevsky in 1263. However, in 1283, our Czar was passed over due to a clerical error and the rule of all Russia went to his second cousin Daniil (Даниил Александрович), whom Czar still resents. As a half-hearted apology, the Czar was awarded control over Muscovy, inconveniently located 5,000 miles away just outside Chicago. He now spends his time seething about this and writing about other stuff that bothers him.