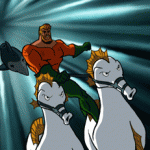 Here is another outrageous example of government regulation stifling economic growth (h/t Drudge, of course).
The short version is that a commercial fisherman from New Bedford, in the People's Republic of Massachusetts caught an 881 pound bluefin tuna in his nets as he was lowering them to trawl for groundfish. By reports, he was quite surprised with his catch, and called fishing regulators to let them know about his catch, and came in early because this sort of catch sells best when it is extremely fresh.
Indeed, Dr. J. can attest to this because his boss enjoyed the best toro (fatty tuna) he ever ate in the best sushi place on the Ginza (in Tokyo, Japan), and it was pulled from the same Massachusetts waters that Mr. Rafael fishes in less than 2 days prior to serving, but he digresses.
So, when he docked, the men in black from NOAA came to confiscate his fish, because apparently you can't accidentally catch a tuna the wrong way (in a net) despite having appropriate licenses to catch the fish, and being transparent with the authorities about the accident of fortune.
So, as a consequence, he plans on giving up his tuna licenses. For those of you who forget microeconomics, less tuna licenses, will result in lest tuna caught. The price of tuna will, necessarily, go up, and folks will have to settle for steak and arugula.
Dr. J. is appalled at the number of incidents in the news where the executive branch has enforced what on appear to be trivial infractions of regulations (even self-reported ones). It is clear that the Obama Administration is a drag on the economy and that he should be a One Term President™.
Massachusetts, we hope you are listening…