Fraternal Correction…and Ultimatum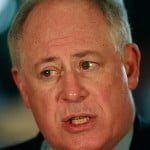 Today's commentary will likely generate a response over at the always fun I'm Not Herzog site, and before you turn away from this as another Papal rant, keep in mind the Czar is easily the least Papist of the Castle dwellers here. However, this is an entertaining story.
Illinois governor Pat Quinn is struggling for popularity, to put it mildly. The Czar does not track the guy's popularity polling, but suspects it has never gone up since his election. At any rate, he shares basement numbers with President Obama, so at least each has someone else to talk to way down there.
Quinn is add odds with just about everybody, and is as unpopular with fellow Democrats as he is with the many state Republicans. A major part of this, to be blunt, is his characteristic Illinois Democrat politics: promise more spending to the Left, promise more cuts to the Right, and effectively do neither.
Now he is in fairly hot water with the Catholic Church. Quinn, who purports to be Catholic, has agreed to speak and present awards at a pro-abortion group dinner; the group donated considerably to his election campaign.
This generated a letter, signed by every archbishop in Illinois (we believe), reminding him that as a Catholic, he cannot endorse, promote, or do anything short of condemn a group advocating abortion. The letter was strongly worded, but is presently not available on the Catholic Conference of Illinois website.
Liberals are firing back, saying that the dinner was to honor a rape victim, and repeatedly saying that only the Catholic Church could be so heartless and cruel as to condemn a rape victim.*
No, that has nothing to do with it. In fact, the Church was right to leave her completely out of this and focus on the abortion group's primary motivation: abortion.
The days of the Kennedys are long over, in which the Church will look the other way when its doctrines are thoroughly ignored in public by its professed members. The letter reflects this and reminds the govenor that Quinn cannot call himself a Catholic while ignoring such a major moral conviction. When Quinn's own pastor defended the governor, the Church sharply reprimanded the pastor and had him apologize to the faithful for deviating from Church teaching.
The bottom line is this: the Church condemns abortion in the strongest possible terms. If Quinn wishes to remain in the Church, or at least nomically call himself a Catholic, he has to drop his tolerance for abortion. That's all there is to this. And the Church was right to tell him it's decision-time for his faith. And that can be tough for a guy who made a career out of a lack of conviction.
You cannot have it both ways, anymore. The Church is done with allowing hypocrisy, and now its politically liberal members must decide which is their true calling. And, of course, we told you this was coming.
*The Czar acknowledges that many people thoroughly question the victim's story, which is a bit judgmental. The Czar advises that this is a matter for law enforcement, but also nods to the claims that she never filed a police report and seems to have no interest in doing so. The Czar is also well aware of her own testimony to the press that seems to imply she knowingly put herself in a terrible situation, but this does not alleviate the crime that allegedly followed.

Божію Поспѣшествующею Милостію Мы, Дима Грозный Императоръ и Самодержецъ Всероссiйскiй, цѣсарь Московскiй. The Czar was born in the steppes of Russia in 1267, and was cheated out of total control of all Russia upon the death of Boris Mikhailovich, who replaced Alexander Yaroslav Nevsky in 1263. However, in 1283, our Czar was passed over due to a clerical error and the rule of all Russia went to his second cousin Daniil (Даниил Александрович), whom Czar still resents. As a half-hearted apology, the Czar was awarded control over Muscovy, inconveniently located 5,000 miles away just outside Chicago. He now spends his time seething about this and writing about other stuff that bothers him.