Final Thoughts on Paterno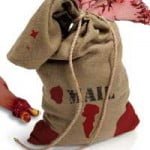 SMack writes in:
Sir Czar,

Don't you understand that if cardinals coached national championships we'd have forgiven them all too and gone on to praise them for all their years of wonderful coaching and saying a couple of years of evil complicity would have been totally cool. I hear it's the same if you direct movies or can dunk.

Dr. J's unsecret admirer (seriously, he was a great addition last year),
SMack
Thanks, we love the Doc dearly. His post on stents was great, but that it positively helped one of our readers will be counted among the best moments in our site's history.
As for Paterno, he was fired. Doubtless the Czar's take on it was the reason why. Additionally, the president of the univeristy was ousted as well, and goodness knows it isn't because we are eager to make amends, but because they were totally aware of what was happening but decided that badly hurt children was way less important than the Nittany Lions.
And the stories of protests, rioting, and conflagration at Penn State this evening must surely make its once-proud alumni weep at the utter embarrassment the university has become—like so many others, but Penn State had a flashpoint.
You raise the cardinals, and your irony is spot on. However, the Czar has seem some actual grumbling about the Catholic Church recently in relation to the Penn State abomination. Two quick points: (1) No, you tools, the Catholic faithful were horribly disgusted by the discovery of generations of sexual abuse in the Church and took action; the Catholics didn't over look it. And yes, the vast majority of cardinals, bishops, and priests as well took action against the guilty when the evidence was uncovered. Stories that the Church and its flock did nothing in response to the abuse allegations are a long-standing anti-Catholic lie disproved by even casual research. (2) The Church initially had no real operational plans of what to do when a priest was accused; Penn State knew exactly what they were supposed to do, but didn't care because it might upset the team. Those are two substantive differences, but don't be surprised if 'Puter gives you a lot more in a bit.
Curiously, the Czar also thought of Roman Polanski when seeing the excuses the NCAA and NFL celebrities were all making for Paterno. A peculiar but outwardly identical pattern.

Божію Поспѣшествующею Милостію Мы, Дима Грозный Императоръ и Самодержецъ Всероссiйскiй, цѣсарь Московскiй. The Czar was born in the steppes of Russia in 1267, and was cheated out of total control of all Russia upon the death of Boris Mikhailovich, who replaced Alexander Yaroslav Nevsky in 1263. However, in 1283, our Czar was passed over due to a clerical error and the rule of all Russia went to his second cousin Daniil (Даниил Александрович), whom Czar still resents. As a half-hearted apology, the Czar was awarded control over Muscovy, inconveniently located 5,000 miles away just outside Chicago. He now spends his time seething about this and writing about other stuff that bothers him.