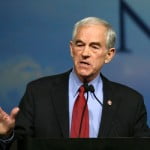 So why does Ron Paul continually insist that Iran is a threat to nobody, that their nuclear intentions are peaceful, and that the Taliban have never once attacked America outside of Afghanistan?
Because any possibility that Iran is a threat, and that the Taliban have participated in attacks on Americans completely wrecks his isolationist narrative. He would wind up sounding as moronic as the isolationists that begged Roosevelt to stay out of World War II even after Japan attacked Pearl Harbor.
So why not simply acknowledge the truth and change his policy? Because that would require him to stop delivering a 30-year-old speech that he has memorized by now. He is a stubborn, foolish man who is so stuck on himself that he cannot admit horrible truths simply because it would involve him changing his reflexive responses to real questions.

Божію Поспѣшествующею Милостію Мы, Дима Грозный Императоръ и Самодержецъ Всероссiйскiй, цѣсарь Московскiй. The Czar was born in the steppes of Russia in 1267, and was cheated out of total control of all Russia upon the death of Boris Mikhailovich, who replaced Alexander Yaroslav Nevsky in 1263. However, in 1283, our Czar was passed over due to a clerical error and the rule of all Russia went to his second cousin Daniil (Даниил Александрович), whom Czar still resents. As a half-hearted apology, the Czar was awarded control over Muscovy, inconveniently located 5,000 miles away just outside Chicago. He now spends his time seething about this and writing about other stuff that bothers him.