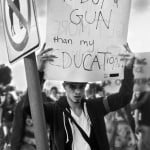 If the Occupy crowd and the Demo-Libs who deny the disaster of their government model have taught us anything, it's that schools need to start returning back to teaching economics.
If they ever did—home economics always seemed more about cooking in the kitchen. When the Czar attended high school, back at Санкт Скорважган the Stigmata Maker in the early 1380s, we did no cooking or sewing: it was basically teaching the miscreants to write checks without intentionally kiting them. Very little time was spent on economic theory.
Things must be less helpful today. You have Occupiers totally clueless on every single one of the few major points on which they coincidentally agree: banks do not set the prices for good, you do; public trading is not the privilege of an elite few, but is open to millions of ordinary Americans who do, in fact, buy and sell stock; heck, they aren't even close to 99% of the population, but more like an extraordinarily narrow band in the upper 70%.
And so on. All of this could be taught in a single day of an econ class, starting with "What is a stock," and ending with basic market valuation. Okay, pehaps another day could be spent on the role of the Federal Reserve, which is a class many adults who do get economics might want to attend as well out of curiosity.
Likewise, the Liberals who call for more public spending and taxing the rich could easily benefit from a single-day class that begins with "What is debt?" and concludes with basic double entry bookkeeping—which is incidentally one of the Czar's favorite English words because it has three double-letters in a row. Perhaps there would be time at the end of class to mention that, but he understands if not.
One interesting aspect that many of our readers may not realize is that, technically speaking, Keynesian theory has not been proven a failure by recent events—because under strict rules, it has not even been tried. That is the dirty little secret on both the Right and the Left: Keynes never argued for massive government spending—Keynes merely argued that government spending was an important multiplier for lowering wages and prices. Our Federal government simply assumed that meant an increase in overall government spending…because that is what they wanted to do anyway and made up this justification for it.
Keynes' simple model really intended to measure the effect of lowering prices for goods, services, and salaries that involved investment, saving, taxes, inventory supply, and more. He did not necessarily advocate any particular course of action, but this simple model was seized upon and perverted beyond recognition by government. What we call the Keynes economic theory should, by rights, be called the Big Government Spending model, and have Keynes' name taken off it.
Not that the Czar is defending Keynes: his model was simplistic, and he got what was coming to him.
The point is that America needs to understand how its powerful engine works, way beyond painting slogans on signs and eschewing capitalism. If the Occupiers want a little more accuracy, they could say "We are the 99% of Americans who really don't understand where our money goes and comes from."

Божію Поспѣшествующею Милостію Мы, Дима Грозный Императоръ и Самодержецъ Всероссiйскiй, цѣсарь Московскiй. The Czar was born in the steppes of Russia in 1267, and was cheated out of total control of all Russia upon the death of Boris Mikhailovich, who replaced Alexander Yaroslav Nevsky in 1263. However, in 1283, our Czar was passed over due to a clerical error and the rule of all Russia went to his second cousin Daniil (Даниил Александрович), whom Czar still resents. As a half-hearted apology, the Czar was awarded control over Muscovy, inconveniently located 5,000 miles away just outside Chicago. He now spends his time seething about this and writing about other stuff that bothers him.