Come On In, The Water Is Fine…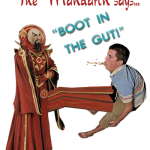 Your Mandarin would like to take a moment to provide an important public service announcement and award the coveted Boot in the Gut™ award.
Apparently water does not provide the health benefits that we have all been led to believe in by the evil water cartels.
To protect the citizens of Europe from the health hazards that water presents, the EU has issued a new rule that water cannot be sold as healthy. The rule makes it a crime punishable by up to two years in prison for anyone who sells water to claim that it protects against dehydration. What's next, ten years in prison for anyone claiming that not having sex prevents pregnancy?
So to the "panel of experts" from the EU that reject the claim that regular water consumption is the best way to rehydrate the body this Boot in the Gut is for you. And to ensure that your Mandarin does not fall foul of your new order let it be known that the Boot in the Gut™ does not prevent dehydration.

The Mandarin, whose real name is 吏恆, joined the order in 1309, and introduced the Gormogons into England during the 18th Century.
The Mandarin enjoys spending time with his pet manticore, Βάρἰκος, or Barry (who can be found in the Bestiary). When not in the Castle…well, frankly, nobody is quite sure where he goes.
The Mandarin popularized the fine art of "gut booting," by which he delivers a powerful kick to the stomach of anyone that annoys him. Although nearly universal today, the act of gut booting or threatening someone or something with a gut boot is solely due to him.