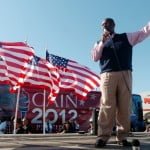 Are liberals as fired up about Herman Cain's predicament as conservatives fear?
It isn't easy to tell. Certainly, many liberals are taking an interest in les affaires Cain, just as many conservatives would be interested in a rising Democratic candidate's potential incidents. But overall, there are few if any real demands for accountability from the Left. Really, so far, the only people unquestionably convinced this is a hot story is the main stream media.
Indeed, folks on the Left are more interested in Cain's odd insistence that Rick Perry is behind the entire event, and indeed whether or not Cain has evidence. Either situation, by the way, is legitimately interesting: either Cain or Perry is lying.
Curiously and thankfully absent from either direction is a sense of moral outrage. The Right is willing to wait until every party has had his or her say—and that some of this might not be our business. The Left is basically shrugging and saying "At least he didn't pull a Weiner."
Well, almost absent: certainly Herman Cain is outraged. But rather than stand his ground and focus on the main issues, he has elected to take a three-part strategy: (a) deny until evidence is revealed, and then begin—slowly—to recall that part of the story, (b) blame Rick Perry's campaign for this, and (c) also claim the Left is a bunch of racists trying to crush him. None of these are working.
The most interesting one may be (b), but the most unfortunate one is (c). Herman Cain playing the race victim is a bit silly: there're no better example of what you can do when you ignore the race card and simply stand up for yourself. For his campaign to use it now is not only distasteful, it shows how desperate he can act when given a real political challenge. Besides, the real race card has already been played against Cain by numerous Leftist personalities describing him in blatantly offensive language—and the reason you don't think about it is because Cain ignored it and streamrolled over it.
The point is: Cain has already proved that real racism won't bother him.
Once again, Cain needs to acknowledge his popularity is serious, and that he is a legitimate contender for the Presidency. He needs to step up and campaign at a much more serious and executive level. Cain likes to remind everybody that he isn't a mealy-mouth politician, but handles things like a fast-moving business executive. Oddly, if he were contending for ownership of a pizza delivery empire, he would have cleaned up this mess hours after it happened.
In short, he is showing us that he can very much act like a mealy-mouthed politician.

Божію Поспѣшествующею Милостію Мы, Дима Грозный Императоръ и Самодержецъ Всероссiйскiй, цѣсарь Московскiй. The Czar was born in the steppes of Russia in 1267, and was cheated out of total control of all Russia upon the death of Boris Mikhailovich, who replaced Alexander Yaroslav Nevsky in 1263. However, in 1283, our Czar was passed over due to a clerical error and the rule of all Russia went to his second cousin Daniil (Даниил Александрович), whom Czar still resents. As a half-hearted apology, the Czar was awarded control over Muscovy, inconveniently located 5,000 miles away just outside Chicago. He now spends his time seething about this and writing about other stuff that bothers him.