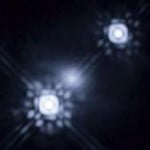 See this picture? It's actually a bit of a first.
The weird rosette-like things can be ignored; instead, look at the hook-shaped blob in the center, hiding slightly. That's a black hole.
So what, you might wonder, aren't there billions of black holes out there?
Yes, but we have never really photographed one before. The radiation that pours into them is so bright that we cannot see much besides a patch of intense light. And when they aren't gobbling up stuff, they tend to be…well, totally black in a black sky.
This picture is very neat, and what you are seeing is a disc of dirt and garbage circling slowly around a black hole. We can see it because the light reflected off this black hole is being bent by a huge galaxy between us and the black hole. The galaxy has such immense gravity that it curves the space around it—and the light hugs that curve and is bent just enough in our direction to give us a glimpse of a black hole behind it.
Very slick.

Божію Поспѣшествующею Милостію Мы, Дима Грозный Императоръ и Самодержецъ Всероссiйскiй, цѣсарь Московскiй. The Czar was born in the steppes of Russia in 1267, and was cheated out of total control of all Russia upon the death of Boris Mikhailovich, who replaced Alexander Yaroslav Nevsky in 1263. However, in 1283, our Czar was passed over due to a clerical error and the rule of all Russia went to his second cousin Daniil (Даниил Александрович), whom Czar still resents. As a half-hearted apology, the Czar was awarded control over Muscovy, inconveniently located 5,000 miles away just outside Chicago. He now spends his time seething about this and writing about other stuff that bothers him.