The Berlin Wall, born 8/12/61, died 11/9/89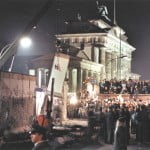 Today marks the 22nd anniversary of the fall of the Berlin Wall. Dr. J.'s old man served in Berlin during the Korean War, during the period where Germany, and especially Berlin was divided and controlled by American and Soviet forces. Our household held in high regard the brave souls who lived in West Berlin during the Cold War, and even higher regard, those East Germans who dared to attempt escapes to freedom. Dr. J. remembers coming home that night from his high school play and asked Papa J. what he was watching. He replied, "They're tearing down the Berlin Wall." I said, "Yeah, right!" and ran up stairs to my room. On the way up the stairs, he said, "No, really, get down here and watch this!" So he and I sat watched together the beginning of the end of the Cold War, and a vindication of Reagan's foreign policy of Peace through Strength.
Today at NRO is a reading assignment for our minions. Thor Halvorssen writes a beautiful history of one of the most powerful symbols of the Cold War, the Berlin Wall.
As a teaser, he writes:
This is when the history books tell us that the Berlin Wall "fell." No, dear reader, it was torn down, mostly by young people with hammers, pickaxes, tractors, pulleys, and a strength of spirit that was made stronger over the years by the peaceful actions of those who stood against, documented, and bore witness to the cruelty and inhumanity of the Communist tyranny.
Now go read the rest!
And for those of you nostalgic for the greatest President of the modern age, some Reagan pr0n: