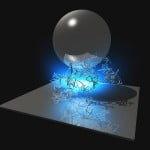 Unfortunately, back in the early 1970s (maybe earlier), the hippies got into physics, and started throwing all sorts of eastern mysticism around and paved the way for nonsensical New Age sciences. One of the worst abuses was Heisenberg's Uncertainty Principle, which consisted of one of the two following statements:
A really small subatomic particle cannot be measured very accurately for its position or where it's headed. You can pick one of the two, but not both, simply because bouncing a photon of the particle to even see the damn thing will knock it off course if it's moving, or start it moving if it was not moving.
Any freaking thing you want to be true is true, man, and don't let the Man tell you different, man.
The Czar, and most scientists by a huge margin, take the first position.
Think about it this way. Picture a billiard ball on a pool table, and there are no lights on. You know the billiard ball is there somewhere, so you roll a golf ball (a photon) around the table. Crack! You hear a sound—the photon hit your billiard ball. Done! Right?
Not quite—the golf ball hits hard, and now the billiard ball is moving. Well, you knew where it was, but not where it is now. Can you figure out where it's headed? Maybe: whip out another golf ball. You hear the ball bounce around the table…thump, thump, thump, crack! You hit the billiard ball while it was moving. Nice shot, but of course, you had no idea where it was headed: you just got lucky. And of course, hitting the billiard ball with the second golf ball knocked it into a new direction.
You could play this game all day and never find out where that stupid billiard ball will be. Like the Czar, you have better things to do all day and you head upstairs. But this demonstrates the simplicity of the Heisenberg Principle. You can test all day if you like, and come up with some really good guesses, but you will never really know where something is, or where it is headed, because everytime you shine a light on it to look, the photons knock the thing away. You can figure out where something was, or where it was headed, but each time you check, you alter the conditions.
So most scientists realized that you can never say, with any absolute certainty, where something is. Interestingly, some scientists realized, in theory this would mean you could never say with absolutely certainty where something isn't.
Think about that for a second. If the Czar says that you will never know where something is, then you can never prove something isn't there, either. Ah, but some wags said, in an absolute vacuum—where nothing, by definition, can possibly exist—then you can be sure there is nothing there.
Except, the scientists realized, that might not be true. If Heisenberg's uncertainty principle is correct, then you actually cannot prove that a total, 100% for sure, no-question vaccuum (where not even a speck of an atom exists), is all that certain.
Guess what? The scientists found they were right.
As bizarre or wicked or wild as this seems, scientists in Sweden used a variation of an old discovery called the Casimir effect to test this. By vibrating a mirror several billion times a second with a magnetic field, the motion of the mirror was able to jar "virtual photons" to appear in totally empty space and become real photons.
The Czar is aware that explanation makes no sense, but the upshot is this: light particles appeared from totally empty space, for just a fraction of a second. Not enough to make a difference, but enough to prove that Heisenberg was right: you cannot know a particle's position…or in this case, non-position, for certain. If you attempt to create totally empty space, empty space might just respond by creating something from nothing.
And that is extremely astonishing.

Божію Поспѣшествующею Милостію Мы, Дима Грозный Императоръ и Самодержецъ Всероссiйскiй, цѣсарь Московскiй. The Czar was born in the steppes of Russia in 1267, and was cheated out of total control of all Russia upon the death of Boris Mikhailovich, who replaced Alexander Yaroslav Nevsky in 1263. However, in 1283, our Czar was passed over due to a clerical error and the rule of all Russia went to his second cousin Daniil (Даниил Александрович), whom Czar still resents. As a half-hearted apology, the Czar was awarded control over Muscovy, inconveniently located 5,000 miles away just outside Chicago. He now spends his time seething about this and writing about other stuff that bothers him.