And a little child shall lead them…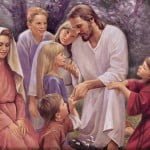 Only 14 days until the Adventzombiepocalypse of 2011!!1!!!!ELEVENTY!!!1!1! Do you know where your Third Edition Roman Missal† is?
If you are a papist, you know that the English translation of the mass is being revised. Your parish has probably been scheduling 'dry runs' and 'Q&A's' at times and places when either you cannot get a babysitter or get away from work. So you are just as worked up about saying the wrong thing and being turned into a pillar of salt, just like Dr. J. is, right?
Right.
Well, Dr. J. was pretty worked up about going into Advent unprepared for the change, but last Sunday at mass, the lil resident soothed his nerves. When the priest said, "The Lord be with you," Dr. J. replied, "And also with you." He felt a tug on his sleeve, and the lil resident whispered, "It's going to be 'And with your spirit'.
Dr. J. asked her where she heard this, and she said, we've been working on this in Sunday school (which is right between the Sunday masses) since August. He asked her if she had the whole mass down, and she looked at him curiously, furrowed her brow, and said, "Of course!"
So, Dr. J. feels a little better about the whole thing.
For those of you who want a cheat sheet, Dr. J. has attached this link to a PDF file where you can print out your parts of the mass. For more details, go here!
Thank you, United States Conference of Catholic Bishops!
Dr. J. is sure that either 'Puter, or the Volgi will be adding something more sophisticated and high brow regarding the changes to the mass between now and when the first purple candle of Advent is lit!
(That would be called a hint guys!)
† One of the three official secret handbooks of the Roman Catholic Church.