!1!Eleventybillion!!!11!!!1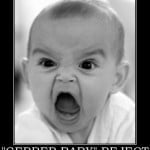 It has been estimated that yesterday, the human population on Earth (we have a standing army of two million myrmidonstraining on the ice plains of Ganymede in preparation for Operation Globalwarmingzombiepocalypse, but never mind that) hit the seven billion mark.
Now, of course, if you read or watch the news, you would think that we are headed towards a Malthusian Crisis where we will be living in domed cities and euthanizing those old enough to drink, eating our elders, or standing side by side by side.
Indeed there is always someone looking on the downside of our growing population. The Today Show didn't have to go far to find one of them.
Dr. Eric Tayag, of the Philippines' Department of Health, said later that the birth came with a warning. "Seven billion is a number we should think about deeply," he said. "We should really focus on the question of whether there will be food, clean water, shelter, education and a decent life for every child," he said. "If the answer is 'no,' it would be better for people to look at easing this population explosion."
In other words, if we can't raise the standard of living for those living at lower standards of living, we should make it so they can't have more kids.
You see this theme recur every time the population odometer rolls over to the next B. Dr. J. was in 7th grade when the population counter hit 5 billion, and his Marxist Social Studies Teacher painted a stark picture of the future, as in her view, we will eventually run out of resources to feed and provide the energy resources for everyone. Indeed, we probably should have run out of oil by now by her faulty estimates.
These memes are grounded in a recurrent theme, the Earth can only support so many people. When we hit that number, we are all doomed!!!!1!!!1!!!E1EVENTY!!1!!!1!
Now there is a grain of truth in this. Somewhere between seven billion and infinity, there is a number, above which, we, like locusts will run out of stuff, everyone would starve to death and die. The thing is, we don't know what that number is, and Dr. J. strongly believes it is far above the ten million bandied about by the sinister Progressives.
There are people trying to figure it out, like Martin Desvaux, PhD, a retired physicist. He wrote this article, which Dr. J. found both flawed, and interesting.
He gives a nice history of how as technology progresses, the number of people the Earth can sustain goes up each time there is a technological breakthrough. When we moved from being hunter-gatherers to agrarian, when we moved from being agrarian to industrial (thank you Mr. Newcomer!).
He even gives us the solution to our problems (which will make 'Puter happy). He writes:
The UN predicts that by 2050 the world population will exceed nine billion. If this happens, then combined with increased affluence (as e.g. the footprints of China and India expand rapidly) the world footprint could rise to around 2.7gha/cap. Without a serious international attempt to bring the world population back towards sustainability, the earth will become increasingly depleted of biological resources and will require humanity to conform to a significantly reduced average footprint, perhaps as low as of 1.2 gha/cap, assuming no sufficiently rapid advances in, for example, food and renewable-energy technologies. Because rich nations will not want to reduce their comfortable lifestyles, this predicts an enormous increase in poverty and an incipient catastrophic population crash in the poorer nations. Superimpose on this scenario the impact of the predicted effects of further global warming and that outcome begins to look like a certainty. It is the author's view that the prediction of nine billion population will never be realised. Instead, the price will be extensive human suffering, through resource wars and starvation.
Unfortunately he misses his own point and thinks condoms are the solution.
Now, not everyone is a pessamist.
Indeed, Glenn Stanton at NRO shares Dr. J.'s optimism. He believes, and rightly so, that population growth, not decline is a critical part of the solution.
In other words, technology necessarily needs to continue to advance in order for humanity to be able to continue to sustain itself. The next 'fire', the next 'beer and dogs', the next 'steam engine' needs to and will be developed. The problem is that progressive asshats and Luddites try to stem that tide in the name of progress. America has lead the world since WWII because of liberty and free-market capitalism. We are faltering because we are walking away from those values. If developing nations can learn to share similar values, embracing freedom and markets, it seems more likely that we will have the innovation and invention required to sustain us upon this Earth and perhaps beyond sooner, rather than later.
But be warned, Ganymede belongs to the Gormogons, kids, attempt no landing there….