To shock or not to shock, that is the question…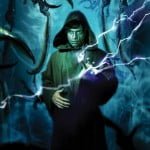 Dr J. has written to this August readership on the topic of implantable cardioverter defibrillators, or ICDs. An ICD is an implantable device, much like a pacemaker, that in addition to pacemaker capability, can deliver rapid bursts of pacing or shocks in order to break a potentially lethal ventricular arrhythmia (ventricular tachycardia or ventricular fibrillation). Because ICD's can act as both a back-up pacemaker to treat slow heart rhythm problems and treat ventricular tachyarrhymias, Vice President Cheney dubbed his a "Pacemaker Plus."
There are, by and large, two groups of patients who receive ICD's, those who have had a ventricular arrhythmia (secondary prevention), and those who are at high risk of having a ventricular arrhythmia, but never have had one (primary prevention). The primary prevention group is by far the larger of the group and almost all of them have congestive heart failure (CHF) due to a low ejection fraction.
CHF is a chronic progressive decline in cardiac function due to a poorly squeezing, or sometimes a poorly relaxing heart. Patients can have varying degrees of fluid retention, shortness of breath and fatigue. Blood pressure medications act like chemotherapy for the heart, improving function and prolonging life. Water pills can manage symptoms.
So, when folks are diagnosed with CHF for the first time, the get an echocardiogram (ultrasound of the heart) and their ejection fraction is determined. They are started on medication, and if, after a few months, their EF doesn't improve to above 35% (normal is >55%), they are eligible for an ICD. The reason for this is that folks with an EF 35% or less are at higher risk of sudden cardiac death. CHF patients die 3 ways, 1/3 die from sudden death due to an arrhythmia, 1/3 die from pump failure over time, and 1/3 something else (like getting hit by a bus).
The idea behind the ICD is to prevent patient with CHF who is otherwise reasonably compensated from dying suddenly while they are still highly functional. We rate CHF symptoms by the New York Heart Association classification. Class I have little or know symptoms. Class II, get short of breath with a reasonable amount of effort. Class III get short of breath doing anything more than their activities of daily living, and Class IV have symptoms at rest. Patients slide up and down this scale when they're decompensated, but they are categorized as a Class based on where they are when they're optimally tuned up. Ultimately everyone progresses down that scale. The typical life expectancy is about 5-10 years from diagnosis.
Now, not everyone who has an ICD has them go off. Some do, and it is often lifesaving. Rarely it is an inappropriate shock for an atrial arrhythmia, or sinus tachycardia. A smaller subset are plagued by shocks for frequent VT, despite enjoying a good NYHA functional class (I, or II, or even a high III). These can be managed by correcting an underlying cause of VT (low potassium, magnesium, an area of the heart with a coronary blockage that can be opened with a stent), or with an antiarrhythmic agent. Ultimately VT ablation can be a strategy.
Many are never shocked and otherwise do very well until they are at the end of their life. We have difficulty managing the fluid, and at the same time, their burnt out ventricle is the cause of their VT. Again, we can use the aforementioned strategies with medications, and even an ablation, if need be.
There gets to be a point in a subset of patients where the shocks are causing needless suffering as they are dying from pump failure. In this subset of patients, we turn off the defibrillation programming.
Now the reason for this longwinded preamble is to get across the point that in a small subset of CHF patients with ICDs, they get to a point where the therapy is actually causing more harm than good in a futile situation. This is not the majority of cases, even those where the patient ultimately expires from CHF. I also write this preamble to make the point that CHF is a complex disease to manage, with multiple permutations having the potential to unfold over time, and you don't know where the patient is going to land until they do.
So, MSNBC has an article they posted on 10/7. It is entitled, Shocking Ending: Implanted defibrillators can bring misery to final hours. They write:

Implanted defibrillators can save lives, shocking a heart beating wildly out of sync back to a regular rhythm. But they can also make a dying patient's last hours agonizing, delivering shock after shock to a heart that is failing.
There's a simple solution: Advise patients who are nearing their last months, days, or hours to turn off the implanted cardioverter-defibrillator, or ICD – or at least explain what can happen if they don't, a new report suggests. This course seems especially clear when a patient is on death's door and has signed orders telling medical personnel not to use heroic measures if heart or lungs stop working.
Read the first sentence of the 2nd paragraph carefully, advise patients who are nearing their last months, days or hours…MONTHS? You read that right, months.
It goes on:
But, doctors, as it turns out, are often reluctant to broach the subject with their patients, says Jim Russo, a registered nurse who works at the Department of Veterans Affairs Medical Center in New York City. Russo searched for all the studies looking at the issue and then detailed the findings in a new report in the American Journal of Nursing.
Mr. Russo is the nurse coordinator of the New York VA's pacemaker clinic wrote a
review article
on the subject.
The thrust of his thesis, is that patients should be counseled thoroughly
, up front, before getting an ICD placed, about the natural history of CHF and the role of the device in disease management, and also most of the time the doctor who discusses end-of-life care tends to be the primary care doctor who won't touch the ICD issue with a 10 foot pole.
Now like Mr. Russo, Dr. J., as a trainee was asked to deactivate the defibrillator therapy in a patient with end stage heart failure as he was transitioning to hospice. He wasn't having shocks, but his family got a shock as the patient's doctor never warned him that Dr. J. was coming. So Dr. J. had to spend an hour explaining that he, 'wasn't going to kill daddy' who was being transitioned to hospice. All Dr. J. was doing was permit him to keep his appointment with St. Peter when the appointed time arrived, if it were to arrive via tachyarrhythmia in the coming days or weeks.
Now back to the BS-NBC article. They provide a couple of horror stories about folks getting shocked incessantly at the end of life. Then they add a scary lie:
Once implanted, the devices can be turned off or reprogrammed by a specialist with a computer that is designed to work with the ICD. Generally neither the specialist or the computer would be available at a hospice.
First, hospice won't take the patient with the defibrillation therapy running inside the ICD (now mistakes happen, but the principle is there). Second, the doctor on call for hospice, or the patient's PCP or cardiologist can can call a rep from the device company to meet them at the patient's bedside to reprogram the device, if the issue was accidentally overlooked. If the cardiologist has a programmer readily available (i.e. if the patient were brought back to the hospital), he or she could do it themselves. And third, if you do turn off the antitachycardia therapy at that point, you aren't killing the patient. You are alleviating the suffering caused by the shocks. If the VT ultimately takes them from this earth, it is a case of what St. Thomas Aquinas described as 'double-effect.' You are allowing them to go naturally.
Now one anonymous cardiologist in the article said that turning off an ICD may be like 'shutting off hope.' Dr. J. has a colleague who said a similar thing to him, as Dr. J. was caring for his patient in the hospital. This wise old colleague feared that turning off the antitachycardia therapy would be like 'hexing' the patient. The reality was that the patient and family understood the prognosis, but went along with Dr. J. and his colleague's joint recommendation of an antiarrhythmic to decrease the likelihood of shocks and returned a week later after the antiarrhythmic failed. By this point, Dr. J.'s colleague was accepting of his patient's prognosis. The patient also enjoyed an additional, relatively symptom (shock) free week with their family before ultimately passing.
So how does Dr. J. deal with this sort of thing in the real world?
Dr. J. may telegraph some of these issues very early, but it has worked very well for his patients.
He spends about 30 minutes counseling the patient about CHF during his first return visit after his first hospitalization. When he recommends an ICD he counsels them for about 30 minutes regarding what to expect, and that 'one day' Dr. J. might visit them in the hospital when we've done everything we can and say that the device is no longer helping and its time to turn off the shocking. Truth be told, the patients who completed their journeys under Dr. J's care died well, and with dignity when it was time. Dr. J. believes that understanding their illness and the limits of therapy helped when it was time to stop those therapies as they were no longer helping. Dr. J. listens to the patients with regard to their needs and wishes. Over time, these issues are revisited as the patient's disease progresses.
What Dr. J. fears is that folks will see this article, and turn off ICD's prematurely, before they become a problem, and potentially take quality time away from patients who still have some living to do. Even worse, there may evolve 'one-size fits all' guidelines that will prevent the last few hospitalizations in some of these patients by letting them slip the surly bonds of earth a few MONTHS early.
A good doctor knows when the writing is on the wall and prepares their patient for it.
The management of these complex issues should ultimately be between the individual patient and the individual doctor. It is our responsibility to tackle these issues head on, and early, because if we don't, someone else, especially if they have a financial interest in the issue, may tackle these tough issues for us.