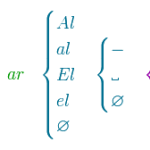 Look, nobody knows how to transliterate Colonel القَذَّافِي since there are so many localized ways to do so; as a result, the Czar is leaving his name in the original Arabic. Even Wikipedia recommends you use the following helpful guide:
Now the news media is in full spin, wondering what this will mean for the world. Really, we suspect, not a whole lot.
Libya is still in bad shape, and may now get worse for its residents and the US alike.
The American portion of the NATO forces…probably not about to come home yet.
We still have no clear reason why we are in Uganda.
Oil flow to the US from Libya will not increase from its negligible amounts since we have no specific trade deals with them.
The Lockerbie victims are not avenged.
القَذَّافِي was hardly a brilliantly evil super-villain; he largely descended into a strange world of exotic costumes, rambling incoherence, and trundling around in a golf cart. As we saw in Abbottabad, we can certainly do better.
As far as transliterating his name, it largely descends into Volgian trivia for us now.
To quote the semper paratus Professor Mondo: "They say you should only say good of the dead. القَذَّافِي is dead. Good."

Божію Поспѣшествующею Милостію Мы, Дима Грозный Императоръ и Самодержецъ Всероссiйскiй, цѣсарь Московскiй. The Czar was born in the steppes of Russia in 1267, and was cheated out of total control of all Russia upon the death of Boris Mikhailovich, who replaced Alexander Yaroslav Nevsky in 1263. However, in 1283, our Czar was passed over due to a clerical error and the rule of all Russia went to his second cousin Daniil (Даниил Александрович), whom Czar still resents. As a half-hearted apology, the Czar was awarded control over Muscovy, inconveniently located 5,000 miles away just outside Chicago. He now spends his time seething about this and writing about other stuff that bothers him.