They Aren't Going To Get It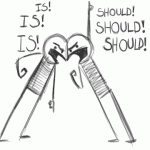 The Czar has no objection to right-wing journalists, bloggers, pundits, and editorial writers pointing out examples of the Left's hypocrisy. But how constructive is any of the subsequent outrage? Are you really shocked by any example of a Democrat calling for an end to violent rhetoric by threatening to kill someone? Or a socialist protestor using an iPhone to reject materialism? Or a feminist liberal who defends a religion's practice of enslaving women?
One the one hand, we should be identifying, isolating, and explicating their claims, if only to better equip conservatives who are dragged into family debates. When a liberal makes a claim about a conservative notion, it helps all of us to determine (a) if the claim itself is correct, (b) in which cases it is correct, and (c) whether or not a rebuttal exists. For example, when a liberal claims that the deficit was greater under Bush than Obama, it helps you to know that they are speaking mixing percentages. The total percentage the deficit grew under Bush in eight years compared to Clinton is higher than the deficit grew under Obama in three, compared to Bush. But the total amount of deficit spending per year is vastly higher under Obama than Bush. Knowing this deflates their argument.
But if you think that addressing articles, posts, essays, editorials, and screeds to Liberals will have any effect, here is your news update: they aren't going to get it.
They aren't.
There is a fundamental different psychology at work; most liberals, by far, see no hypocrisy whatsoever. Really:
When Bush made a mistake, it was because he was stupid; when Obama makes a mistake, it is because he was given bad information. Big difference.
When Biden makes a bonehead statement, he merely slipped up. Everyone does. When Dan Quayle uttered something ridiculous, it's because he's stupid.
When a progressive takes money out of Medicare to fund a healthcare initiative, it's because tough, brave sacrifices need to be made. When a fiscal conservative does it, it's because he wants your grandmother to die.
When an unelected board of individuals makes decisions regarding ongoing medical treatment, a conservative sees this as a death panel; a liberal understands this is simply a quality of life review board.
When a Democrat says something terrible about a group of people, it was simply a joke or statement made under pressure. When a Republican does it, he absolutely meant every word of it.
A Democrat says on television he wants to castrate the President, but obviously didn't mean a word of it. A Republican wants to target a Democrat stronghold in the next election, because she is inherently violent and must encourage her followers to kill others.
It's even framed in some of their very language. Conservatives are pro-life, whereas Liberals are pro-choice. This is because very few Liberals are pro-death, you see. Even when they take the exact opposite, contrary position, there is a difference: conservatives are about saving kids' lives, which is okay, but Liberals are about defending a woman's right to choose. Even the opposite position is not, in their psychology, strictly speaking, an opposite position.
Right-wingers see Gun Rights, framed by the Second Amendment. Leftists see Gun Control, subject to local law. No matter how you spell out that they have taken the opposite position, they don't see it that way: your logical arguments therefore don't apply. A conservative sees things in black-and-white, in binary terms, as right or wrong and no in-between. You are either with us or against us.
Most liberals find that a limiting mindset: there are a rich tapestry of positions, and so they speak of nuance, of feelings, of living documents, of dynamics. Nothing is specific, so nothing can be defined. Don't like it? We can change it! Most conservatives, in turn, find this intellectually lazy.
Here is another example: "social justice." Who could be against that, argue the Liberals. But by definition—and to an intellectually honest person—the term is ridiculous. You cannot qualify justice: it is, by all definitions, binary. Social justice is simply the requirement that those who have more than they need give to those who do not have enough: a millionaire can be made to give substantial portions of his wealth to the single mother who can't find work.
But if you ask Liberals about a person forcing a single mother to fork over 80% of her income to some guy she doesn't know for reasons she doesn't understand, most Liberals will declare that criminal. Somehow, they fail to understand that this is the identical logical construct to social justice. Point it out, and they reject it—because the second example seems, or feels, unjust. Therefore it cannot be the case.
Justice, though, must be a logical structure if it is to be justice at all. Arbitrary exceptions, by definition, cannot be just. Precedents matter. Conservatives believe justice follows a type of math: If A = B, then B = A. A Liberal might argue that A = B, but B may not want to equal A.
This is not to suggest that the typical Liberal is incapable of logic; in fact, Liberals use valid logic, mathematics, and rigid critical thinking whenever it suits them. Conservatives tend to use these tools even if the answers do not suit them.
Nor is this to say that Conservatives are inherently smarter than Liberals. Based on the rah-rah comments you read on conservative websites, or the conservatives who write into liberal websites, you realize there's a whole lot of nuthin' going on upstairs with some of these right-wing folks.
But a conservative is far more likely to consider a contrary argument—gay marriage, death penalty moratoria, environmental regulation—than the other way around. Why? Because the conservative is willing to reason it out. If a conservative refuses to budge in his position, it's probably because he did the math and came up with an answer that works. If a liberal refuses to budge, it's because he cannot see the difference between opposing premises. As a result, he isn't going to bother with the math since the premise must be wrong.
Not that he doesn't want to: anecdotally, it appears that liberals are far more likely to become conservatives (and once they start, they convert fairly quickly) than conservatives are to become liberals. Because once you begin to appreciate that relativism and nuances and situational ethics becomes painfully difficult to manage after a while, much of what you railed or argued against falls apart very quickly.
The point is simple, though: you can sigh and point out all these examples of hypocrisy, of saying one thing and doing the other, or failing to apply objective standards to similar events, and so on all you want. But until a liberal makes the connection, which he or she will do internally, nothing will do any good. You cannot reason a person out of a position he did not reason himself into: and, by a weird corollary, once that reasoning begins, your help will not exactly be needed.
So don't act shocked, surprised, or astonished by liberal hypocrisy. You know it exists: you just cannot employ your pretend shock to argue: your reader either agrees with you already, or will never be persuaded to change views. Instead, change your shock into a factual refutation of the claim so that your reader, who already agrees with you, knows whether or not a real intellectual problem exists.

Божію Поспѣшествующею Милостію Мы, Дима Грозный Императоръ и Самодержецъ Всероссiйскiй, цѣсарь Московскiй. The Czar was born in the steppes of Russia in 1267, and was cheated out of total control of all Russia upon the death of Boris Mikhailovich, who replaced Alexander Yaroslav Nevsky in 1263. However, in 1283, our Czar was passed over due to a clerical error and the rule of all Russia went to his second cousin Daniil (Даниил Александрович), whom Czar still resents. As a half-hearted apology, the Czar was awarded control over Muscovy, inconveniently located 5,000 miles away just outside Chicago. He now spends his time seething about this and writing about other stuff that bothers him.