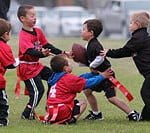 Being a time-traveling robot, one doesn't always think linearly so I have a couple thoughts that have been bouncing around the ol' neural net and I figured I'd do a quick dump on each. 'Puter would counsel me to say that I reserve the right to recall these thoughts at a later time to examine them more fully:
Item #001: Over Competitiveness
I'm all for competition for our youth – in sports, school, and other extracurriculars. I think competition is healthy for kids and can, if not messed with, teach kids how to win and lose well with sportsmanship. GorT's parish has an intramural flag football program that has a long and storied history dating back over 20 or 25 years. GorT can respect tradition (a fellow fraternity brother once told GorT that "tradition" in a fraternity means we've done it once) and the program has a special place in the hearts of the community. GorT has a background in coaching and refereeing and has been refereeing the flag football games for over 5 years. The program has always had the boisterous coach and the go-get-'em parent. In the last few years the attitudes have seemingly become ramped up. GorT almost ejected a parent last year while tending to a middle schooler who was hurt. In three weeks of the season so far, we've had numerous issues where coaches have lost their cool with calls. Remember, this is a "for fun" co-ed intramural program within our parish neighborhood. Plenty of the boys on the team who love (or whose parents love) football, play in one of several competitive tackle football programs in the area. Maybe I'm being a bit naive and have an idealistic mental picture of how the program should run. Then I ref a game where we get two teams who truly have fun. They encourage the kids to play as a team, encourage each other, cheer from the sidelines and most of all show respect to the other team and to the referees. It's hard to referee your friends and your friends' kids when it gets contentious….especially when it doesn't have to be.
Item #010: Work Ethic
If you are gainfully employed, whether you like the job or not, you should put forth your best effort. Yes, we all have bad days when we're just "not feeling it". And days when we come home and toss back a few Cuba Libres, Manhattans, cervezas, or maybe even go for a Mo-Tea-To with some Firefly Tea Vodka, crushed ice, muddled mint leaves, sugar (or better yet, simple syrup), soda water and lime juice. GorT has had a recent experience with an employee that he had to dismiss from his program. It's never fun nor easy to do. When everything gets unraveled from this event, I think the evidence will show that the employee half-assed it. Unfortunately, GorT was not in a good position to get ahead of the problem and try to correct it. By the time I was aware of the issue, so much time had passed the damage was done. Sometimes it's hard. We see customers napping and "half-assing" it as well and you know what, it isn't fair. But get over it and take a line that any good parent of multiple kids has probably uttered: it doesn't matter what someone else is or isn't doing – worry about yourself.
Item #011: Surprise Christie isn't running
Ok, was anyone out there really thinking he was going to run. Seriously? He knows the skeletons in his closet. He can talk a good game and an Obama v. Christie debate might be interesting, it's not going to happen. Sorry.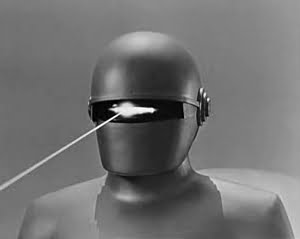 GorT is an eight-foot-tall robot from the 51ˢᵗ Century who routinely time-travels to steal expensive technology from the future and return it to the past for retroinvention. The profits from this pay all the Gormogons' bills, including subsidizing this website. Some of the products he has introduced from the future include oven mitts, the Guinness widget, Oxy-Clean, and Dr. Pepper. Due to his immense cybernetic brain, GorT is able to produce a post in 0.023 seconds and research it in even less time. Only 'Puter spends less time on research. GorT speaks entirely in zeros and ones, but occasionally throws in a ڭ to annoy the Volgi. He is a massive proponent of science, technology, and energy development, and enjoys nothing more than taking the Czar's more interesting scientific theories, going into the past, publishing them as his own, and then returning to take credit for them. He is the only Gormogon who is capable of doing math. Possessed of incredible strength, he understands the awesome responsibility that follows and only uses it to hurt people.