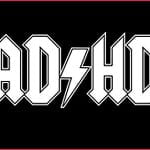 'Puter's going to get introspective, and perhaps a bit self-pitying, so bear with him for a few minutes.
Longtime readers of your Gormogons know 'Puter's got a relatively conventional medical history for a man of his age. He's got a touch of high blood pressure, well controlled with inexpensive generic drugs (thanks, Big Pharma!). 'Puter also had an L4-L5 microdiscectomy a little over a year ago to alleviate the crushing pain he'd suffered with off and on for nearly five years.
Well, this week 'Puter was diagnosed with a new issue: attention deficit hyperactivity disorder.
'Puter, Jr. was diagnosed with ADHD about four years ago. Since then, with behavioral modifications and medication, he's improved dramatically. He's excelling in school and infinitely better socially, both with friends and at home. Mrs. 'Puter noted that 'Puter exhibited many of the same objective symptoms 'Puter, Jr. had: forgetfulness, inability to stay on task, constant interrupting, jumping from topic to topic, easy boredom. Like a good wife, Mrs. 'Puter pestered and nagged 'Puter to go get tested. After four years, 'Puter succumbed to Mrs. 'Puter's demands, simply to get her off his back.
Again, like all good wives, Mrs. 'Puter was correct. After undergoing about five hours of various psychological assessments, it turn out 'Puter's ability to process and synthesize information is between one and one and-a-half standard deviations lower than his actual IQ. On the upside, it turns out 'Puter's phonemic intelligence including word puzzle ability is greater than four standard deviations above normal, so 'Puter's got that going for him. 'Puter could go into all the subtests, but that's the nub. 'Puter's thinky parts ain't wired quite right.
ADHD isn't fatal, and can be corrected with medications. And, besides, 'Puter's lived with it for over 40 years without a clue that he had it, so 'Puter's not overly concerned. In fact, if the medication works, it could improve 'Puter's life. But the diagnosis got 'Puter to thinking, which is never a good thing.
'Puter's left wondering what his life would have been had he been diagnosed earlier. Would his academic performance have improved? Would he have attended different and/or "better" schools? Would he be more successful?
Ultimately, 'Puter's come to the conclusion that he's done fine for himself. He's got a wonderful wife, great kids (so far), a nice house and a good job. He's loved by, and loves, his family and friends. And at the end of your life, that's the only success that matters.
So thanks for bearing with introspective 'Puter for a bit today. He'll update you on his status as may be necessary.

Always right, unless he isn't, the infallible Ghettoputer F. X. Gormogons claims to be an in-law of the Volgi, although no one really believes this.
'Puter carefully follows economic and financial trends, legal affairs, and serves as the Gormogons' financial and legal advisor. He successfully defended us against a lawsuit from a liquor distributor worth hundreds of thousands of dollars in unpaid deliveries of bootleg shandies.
The Geep has an IQ so high it is untestable and attempts to measure it have resulted in dangerously unstable results as well as injuries to researchers. Coincidentally, he publishes intelligence tests as a side gig.
His sarcasm is so highly developed it borders on the psychic, and he is often able to insult a person even before meeting them. 'Puter enjoys hunting small game with 000 slugs and punt guns, correcting homilies in real time at Mass, and undermining unions. 'Puter likes to wear a hockey mask and carry an axe into public campgrounds, where he bursts into people's tents and screams. As you might expect, he has been shot several times but remains completely undeterred.
He assures us that his obsessive fawning over news stories involving women teachers sleeping with young students is not Freudian in any way, although he admits something similar once happened to him. Uniquely, 'Puter is unable to speak, read, or write Russian, but he is able to sing it fluently.
Geep joined the order in the mid-1980s. He arrived at the Castle door with dozens of steamer trunks and an inarticulate hissing creature of astonishingly low intelligence he calls "Sleestak." Ghettoputer appears to make his wishes known to Sleestak, although no one is sure whether this is the result of complex sign language, expert body posture reading, or simply beating Sleestak with a rubber mallet.
'Puter suggests the Czar suck it.