The President Could Not Be More Wrong On This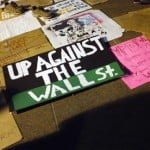 Oh good. Obama is now backing the Occupy protestors.
And the liberals all said George Bush was a clueless idiot. This move could not be more wrong, based on the fact that the core protestors can't stand Obama: he is viewed as a guy who bailed out Wall Street companies numerous times, is in bed with Goldman Sachs, view his policies as force multipliers for their woes, and is a Big Government dude, while the Occupy crowd appears to be increasingly anarchic.
This is like the mayor of Boston announcing that he supports the New York Yankees. An obscenity from New York will be seconds away.
Even The New Republic, openly libeal, came out against the Occupy crowd as a group who distinctly does not share Liberal ideas, and that Liberals should steer clear of these folks.
Some even think that the Occupy groups are an existential threat to the Democrats, showing that the party can no longer keep its raucously diverse house in mild disorder.
Whatever. The Czar thinks the Occupy movement started as a goof, and grew in numbers as a bunch of bored silly kids figured this was way funner than playing Gears of War. "Look, Ma, we're finally doing something outdoors." No surprise that the initial statements from these kids were unfocused, rambling, and often funny.
Then the hippies joined in, because frankly these kids have no idea how to protest. Of course, this opened the door to anyone who wanted to show up. Now, we went back to the whole smash the system, take down the Man, and penalize the fatcats who walked off with our badly invested retirement funds.
The Unions, ACORN, and other groups decided this bizarre assortment would be great fodder for political activation, and this is where the whole thing fell apart. Comments to the press became about Marxism, socialism, crushing capitalism, punishing the rich, and the usual College Socialist tropes that failed to win converts even in 1978.
With such an inchoate mix, no surprse the anarchists showed up: vandalism, civil disobedience, assaults, and vulgar displays of bodily functions have taken center stage.
When no one is in charge of a group, leadership will be supplied. And this is what you see.
Naturally, the Democrats are the party of last resort. Anyone who doesn't agree 100% with Republicans are automatically counted as Democrats. So naturally the President will take the side of these groups, even though only a fraction would actually vote for him…or anyone, for that matter. Apparently because they are losers, like him, they belong as Democrats.
Fine—but the Czar says that these kids are way more likely to be LaRouchies at one end, Ron Paulistas on the other, if they vote at all. The rest want to smash the System…and the President is incredibly unable to fathom that he is the System they want to smash.
Good on ya, Mr. President. If you want to take in these wild dogs as pets, by all means do so. Be careful: they bite.

Божію Поспѣшествующею Милостію Мы, Дима Грозный Императоръ и Самодержецъ Всероссiйскiй, цѣсарь Московскiй. The Czar was born in the steppes of Russia in 1267, and was cheated out of total control of all Russia upon the death of Boris Mikhailovich, who replaced Alexander Yaroslav Nevsky in 1263. However, in 1283, our Czar was passed over due to a clerical error and the rule of all Russia went to his second cousin Daniil (Даниил Александрович), whom Czar still resents. As a half-hearted apology, the Czar was awarded control over Muscovy, inconveniently located 5,000 miles away just outside Chicago. He now spends his time seething about this and writing about other stuff that bothers him.