Occupy Wall Street: Incompetents, Morons or Both?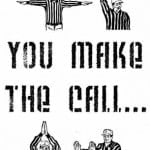 Welcome to another Gormogon-a-riffic installment of You Make The Call.
According to Wikipedia, which, when dealing with know-nothing OWS chuckle-heads is an acceptable reference source, the filthy hippies illegally encamped in Zuccotti Park in Middle Ages squalor seem to hold one or two major unifying beliefs:
1. There is an unequal distribution of wealth in the United States that must be remedied.
2. Wall Street, and the federal bail-out thereof, is emblematic of unfairness inherent in the system.
Let's assume for the sake of argument that the OWS pinheads' assumptions are correct. That being the case, 'Puter has the following question for the OWS crowd, their fellow travelers and their media enablers:
What's your proposed solution?
It's all fine and dandy to be an issue spotter. 'Puter knows the world loves issue spotters. They're the folks who state the obvious, but offer no constructive solution. Simply identifying flaws is easy. Proposing workable, real world solutions to solve the identified issues is difficult. 'Puter's got no respect for you if you bitch about something and don't offer a solution. The world's full of intractable problems, from poverty to religious conflict to opposite side parking. Offer up a plan or STFU.
On income equality, which 'Puter has dealt with extensively in other postings, what's the solution? 'Puter's heard the following, or variants thereof, from the imbecilic, infantile protestors:
a. A millionaire's tax
b. Wealth confiscation and redistribution.
c. Government "fairness" payments/debt forgiveness.
Sure, these are plans, though not official plans. But so too is cutting off your head to deal with a runny nose a plan. In each instance above, like in 'Puter's example, the proposals fail a basic test: they have horrendous negative impacts in the real world, significantly greater than the problem itself.
A millionaire's tax would do nothing more than drive productive citizens to work less, game the tax code, leave the United States altogether or some combination of all three. Experience in Connecticut and Maryland shows that when millionaires are taxed, in the year the tax takes effect, there are suddenly many fewer millionaires. This results in less revenue, and exacerbates an already poor situation. Millionaire's taxes are a proven failure. Let's not try something we know has failed and expect a different result. That's the definition of a liberal.
Governmental wealth confiscation and redistribution is literally communism. Go look it up. 'Puter'll wait while you figure out how to use the Google. There's also online dictionaries you can use to help you with the big words, OWS ninnies. Switching the United States to a communist society is a non-starter, except among tweed jacketed (or skirted) Ivy League faculties. And apparently now among the spoiled "Everyone Gets A Trophy" generation currently wallowing like animals on Wall Street. Too, like the millionaire's tax, communism is a proven failure. It didn't work in the Soviet Union, it's not working in China, and it's sure as Hell not going to work in the United States.
Government required debt forgiveness is simply wealth redistribution by another name. People forget (or don't know) that behind every bank loan, from your mortgage to mezzanine financing on enormous hotel projects, stand investors. Many of these investors are backed by shareholders, mutual funds and/or pensions. In screwing Whitey The Man out of his money, it's actually the little guy who gets left holding the bag. From the pensioner, to the 401k recipient, to workers in a publicly traded companies, if the government rewrites the debt rules mid-game, you're going to get screwed. Your pension will fall, you'll lose your job, credit will dry up. The government cannot forgive debt without paying the holders (which means increased taxes/debt financing). If it does, no one will be willing to lend to anyone.
On point two, the Wall Street bailout, 'Puter's heard no alternative from any of OWS' hirsute, hippie harridans. That's because there were only really two alternatives at the time: (1) do as Presidents GW Bush and Obama did and shovel money into Wall Street until the markets calmed or (2) do nothing, let the companies fail (and they would have) and take the very real risk that the credit markets seize altogether, causing the world's economies to grind to a devastating halt.
Both of these alternatives, to use legal terminology, sucked ass. Personally, 'Puter would have let the banks fail, but 'Puter acknowledges the downside risks were catastrophic in that course. Fortunately for 'Puter and for everyone else, 'Puter was not the decider.
To the OWS losers, your immaturity in thought and deed prove you to be a suppurating, parasitic cancer on the body politic. Your parents should rightly be ashamed of you. Your universities should rescind your degrees, for it is apparent that you lack the ability to think critically.
Hell, in a "fair" world, we'd bundle you all up and drop you all on an uninhabited island where you could set up your own society, free from the constraints put on you Society and The Man. 'Puter'd put TV cameras on the island so the productive folks remaining behind could watch as your workers' paradise quickly descends into Lord of the Flies territory. It'd be great fun.
Here's 'Puter's final conclusion on OWS. They are children. And like children, OWS flunkies cannot accurately size up a situation and respond appropriately. They are not serious, and in no manner can they be considered functioning adults. OWS protestors are a disease, attempting to destroy the system through childish, uninformed mob rule. OWS children are no better than the Wall Street titans they profess to loathe. Both seek to game the system for their own ends, no matter how many (metaphorical(?)) bodies they have to step over to do so.
Grown ups know it sucks that some people earn more than you do, particularly when the high-earners offer less benefit to society. In a perfect world, teachers, cops and firemen would be the highest paid people in the land. Also, everyone would have a fuzzy unicorn that crapped gold coins, 'Puter'd be beautiful and Dancing With The Stars would never have found airtime. But we don't live in a perfect world. Far from it, if you hadn't notice.
Grown ups also know that the alternatives OWS offers are far worse than our current situation, as we have discussed above. Sometimes, when all alternatives are examined, the correct answer is still a crappy result. Grown ups hate a crappy result just as much as the crybabies on Wall Street do, but where the crappy result is the best alternative, we accept it as the best we can do for now, we try to fix what we can going forward, and, as the Brits did during The Blitz, we keep calm and carry on.
Keep calm and carry on, grown ups. You're our only hope.

Always right, unless he isn't, the infallible Ghettoputer F. X. Gormogons claims to be an in-law of the Volgi, although no one really believes this.
'Puter carefully follows economic and financial trends, legal affairs, and serves as the Gormogons' financial and legal advisor. He successfully defended us against a lawsuit from a liquor distributor worth hundreds of thousands of dollars in unpaid deliveries of bootleg shandies.
The Geep has an IQ so high it is untestable and attempts to measure it have resulted in dangerously unstable results as well as injuries to researchers. Coincidentally, he publishes intelligence tests as a side gig.
His sarcasm is so highly developed it borders on the psychic, and he is often able to insult a person even before meeting them. 'Puter enjoys hunting small game with 000 slugs and punt guns, correcting homilies in real time at Mass, and undermining unions. 'Puter likes to wear a hockey mask and carry an axe into public campgrounds, where he bursts into people's tents and screams. As you might expect, he has been shot several times but remains completely undeterred.
He assures us that his obsessive fawning over news stories involving women teachers sleeping with young students is not Freudian in any way, although he admits something similar once happened to him. Uniquely, 'Puter is unable to speak, read, or write Russian, but he is able to sing it fluently.
Geep joined the order in the mid-1980s. He arrived at the Castle door with dozens of steamer trunks and an inarticulate hissing creature of astonishingly low intelligence he calls "Sleestak." Ghettoputer appears to make his wishes known to Sleestak, although no one is sure whether this is the result of complex sign language, expert body posture reading, or simply beating Sleestak with a rubber mallet.
'Puter suggests the Czar suck it.