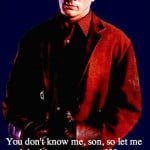 GorT and at least one other Gormogon are fans of the Josh Whedon's canceled-too-early Sci-Fi series, Firefly. So when it is part of a PC-gone-crazy scheme, I had to alert our readers. Courtesy of a number of sites, including the Gawker and InfiniteUnknown:
MINNEAPOLIS, Sept. 26, 2011—A professor has been censored twice, reported to the "threat assessment team," and threatened with criminal charges because of satirical postings on his office door. Campus police at the University of Wisconsin–Stout (UWS) censored theater professor James Miller's poster depicting a quotation from actor Nathan Fillion's character in the television series Firefly, and the police chief threatened Miller with criminal charges for disorderly conduct. After UWS censored his second poster, which stated, "Warning: Fascism," Miller came to the Foundation for Individual Rights in Education (FIRE) for help.
"Colleges and universities are supposed to foster brave and bold environments of freewheeling intellectual inquiry and expression. If a quote from a network science fiction show is a bridge too far, something has gone seriously wrong," FIRE President Greg Lukianoff said. "As both president of FIRE and a huge Firefly fan, I call on the chancellor of UW–Stout to rein in his overreaching administration and to restore both free speech and basic common sense."
On September 12, 2011, Professor Miller posted on his office door an image of Nathan Fillion in Firefly and a line from an episode: "You don't know me, son, so let me explain this to you once: If I ever kill you, you'll be awake. You'll be facing me. And you'll be armed." On September 16, UWS Chief of Police Lisa A. Walter emailed Miller, notifying him that she had removed the poster and that "it is unacceptable to have postings such as this that refer to killing."

Amazed that UWS could be so shockingly heavy-handed, Miller replied by email, "Respect liberty and respect my first amendment rights." Walter responded that "the poster can be interpreted as a threat by others and/or could cause those that view it to believe that you are willing/able to carry out actions similar to what is listed." Walter also threatened Miller with criminal charges: "If you choose to repost the article or something similar to it, it will be removed and you could face charges of disorderly conduct."
Later on September 16, Miller placed a new poster on his office door in response to Walter's censorship. The poster read "Warning: Fascism" and included a cartoon image of a silhouetted police officer striking a civilian. The poster mocked, "Fascism can cause blunt head trauma and/or violent death. Keep fascism away from children and pets."

Astoundingly, Walter escalated the absurdity. On September 20, Walter emailed Miller again, stating that her office had removed the poster because it "depicts violence and mentions violence and death." She added that UWS's "threat assessment team," in consultation with the university general counsel's office, had decided to have the poster removed, and that this poster was reasonably expected to "cause a material and/or substantial disruption of school activities and/or be constituted as a threat." College of Arts, Humanities and Social Sciences Interim Dean Raymond Hayes has scheduled a meeting with Miller about "the concerns raised by the campus threat assessment team" for this Friday.
Seriously? They're just lucky that the poster wasn't of Adam Baldwin's character, a man called Jayne.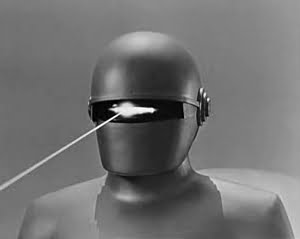 GorT is an eight-foot-tall robot from the 51ˢᵗ Century who routinely time-travels to steal expensive technology from the future and return it to the past for retroinvention. The profits from this pay all the Gormogons' bills, including subsidizing this website. Some of the products he has introduced from the future include oven mitts, the Guinness widget, Oxy-Clean, and Dr. Pepper. Due to his immense cybernetic brain, GorT is able to produce a post in 0.023 seconds and research it in even less time. Only 'Puter spends less time on research. GorT speaks entirely in zeros and ones, but occasionally throws in a ڭ to annoy the Volgi. He is a massive proponent of science, technology, and energy development, and enjoys nothing more than taking the Czar's more interesting scientific theories, going into the past, publishing them as his own, and then returning to take credit for them. He is the only Gormogon who is capable of doing math. Possessed of incredible strength, he understands the awesome responsibility that follows and only uses it to hurt people.