Maybe It Is Time To Pull the Plug on The Simpsons Anyway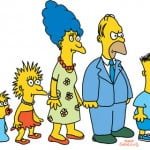 Okay, so The Simpsons won't be cancelled after all; negotiations worked, and Fox promises two more seasons.
Truth be told? The Czar is a bit disappointed. Possibly, you are as well.
Its first season, way back in 1989, was uneven but okay. The show was very much centered on what a bad wittle boy that Bart kid was. In the second season, though, the writers hit on the winning formula of ensemble-style interplay, and the performers finalized their voices. And starting with that 1990 season all the way into 1997 or 1998 (depending on your point of view), the show was hysterically good. At some points, particularly in the mid-90s, there was a laugh-out-loud gag that worked every few seconds.
Seen the show lately? The ratings say you have not, on average. The show, while still commanding a good audience, lacks the crushing, overwhelming juggernaut ratings it had back fifteen, sixteen years ago.
Today, there is maybe one good laugh in the entire show. The rest of it is social commentary. Okay, the one good joke is usually pretty darn good, but the rest is Homer reacting to the liberal message each week. Gay marriage. Immigration. Campaign reform. Whatever. Every plot is basically "Homer quits his job and enters into the world of X, while Marge discovers she has become hypocritical of Y." To be fair, the writers still skewer the liberal mindset pretty good a couple times each week, but overall, the show is pushing message over content. And that fails.
Contrast this to the mid-90s: social comments, both pro-left and pro-right, were scattered into the mix like crazy to skewer everyone evenly and brilliantly. Many liberals hated the show because they thought it too right-wing, even with the over-the-top depiction of Republicans (whose membership included Monty Burns, Rush Limbaugh, a gun-crazy Texan, and a vampire). Somehow even making fun of right wingers wound up making fun of liberals more than anything because everyone could laugh at it.
You can watch the anti-conservative drumbeat in The Simpsons Movie to see how far removed those days are. It has become snotty and elitist, whereas the old format always guaranteed, no matter who you were, at least you were smarter than they were.
And with the departure of writer Conan O'Brien, the show went a bit tepid. The jokes were less inventive and more primal. Then it became flat, as story lines became simpler and less erratic. Now, entire episodes have become unwatchably stale and obvious. If you doubt this, take note of the widespread acknowledgment that reruns of the show pull in better numbers than new episodes.
Sometimes you are faced with a show that went on for a season too long. Or two too long. The Simpsons, if we can be totally honest, has been on eleven years too long. They could have given it a great send-off, with a neat and clean closing episode and dotted us with movies and surprise specials here and there.
For a time, the show was religion: you criticized it at your own peril. Now, you bash The Simpsons and people openly agree with you. Yes, it still is a hit show (as people tellingly seem to remind you a lot), and it still entertains. But its glory days are long gone.
It has gone from religion to legacy. And it is a show that we are now more stuck with, then stuck on.
And now today we learn, it will be with us until at least 2014. Let us see this week what Homer quits his job to become obsessed with to the point of losing himself in it. What a shame that won't be a spoiler for any of you.

Божію Поспѣшествующею Милостію Мы, Дима Грозный Императоръ и Самодержецъ Всероссiйскiй, цѣсарь Московскiй. The Czar was born in the steppes of Russia in 1267, and was cheated out of total control of all Russia upon the death of Boris Mikhailovich, who replaced Alexander Yaroslav Nevsky in 1263. However, in 1283, our Czar was passed over due to a clerical error and the rule of all Russia went to his second cousin Daniil (Даниил Александрович), whom Czar still resents. As a half-hearted apology, the Czar was awarded control over Muscovy, inconveniently located 5,000 miles away just outside Chicago. He now spends his time seething about this and writing about other stuff that bothers him.