Mailbag – Republicandiatopenia Edition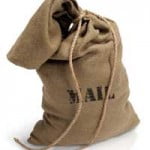 Gentle Readers,
There was quite a bit of tweeting in reaction to Dr. J.'s thoughts on Herman Cain. But Operative JAB writes in from the doublewide:
Dear Mr. Dr. J.: I wouldn't waste a lot of time-time-time noodling on the finer points of Herman Cain's 9-9-9 plan. My crystal ball says he ain't agonna be the nominee of the GOP. It's not that he's not a nice enough man, but you do know where nice guys finish, right? No, it's more that he's just not up to the task.
Did you happen to catch his comments to CNN's Piers Morgan? In mere moments, Cain went from no abortions/no exceptions to a position of not really feeling it's right to tell women what to do. And its not like he withered under fire some hard-bitten political reporter– this guy interviews whoever is on the cover of the People magazine that I read at Betty's Beauty Barn when I'm getting my bouffant shellacked. All I'm saying is that if a man who is a Baptist minister cannot manage to hold one-and-only-one position on abortion under questioning from likes of Piers Morgan, how do you think he'll do with say…Vladimir Putin?
Probably about as well as the current President?
Well, that's not going to be quite good enough because at least Obama will have completed 4 years of on-the-job-training.
So you plunked your vote for Mitt (with 2-T's) in 2008? It's interesting that you brought up the spectacle of watching "…candidate of destiny Hillary Clinton's campaign implode at the hands of that inexperienced guy whose last name rhymed with Osama…." I happen to think that Mitt (with 2-T's) has the potential to be the Hillary of 2012. As has been pointed out by many others, he's been running for years and years, yet he just cannot seal the deal. Now Rasmussen has a poll out showing Cain leading Romney 28 to 21 in IOWA. Romney can't hold off a guy who flubs a Piers Morgan interview and says that he could see himself as President doing a prisoner swap, freeing those we hold in Gitmo. Uh, right. Maybe it's Romneycare for some, abortion for others, but for me it is that quality he shares with John Kerry. No, not that perfectly coiffed hair. I mean that the only thing that you can say for sure about him is that he REALLY, REALLY, REALLY wants to be the President.
There have been a string of truly minor things that I put forth for your consideration:
1. A couple of weeks ago the Missus Romney made a comment on the campaign trail in SC: "If they don't pick Mitt that's their stupid mistake, not mine," It's well and good to stand by your man, but that hints at a very unattractive quality in the Romney way of thinking. It might even be a sense of entitlement.
2. Then in the Las Vegas debate, Mitt (with 2-T's) got himself just a little bit flustered, because the other kids were saying mean things about him. He reacted to Perry's attack angrily, then went so far as to reach over and put his hand on Perry's shoulder, which was plain weird-looking. Finally, he looked over at Anderson Cooper, and whined about the enforcement of rules.
3. I didn't see the actual "Perry is soooo stupid" ad, since it was yanked soooooo quickly, but it must have been a doozy. What next, a "Perry's mother wears army boots" ad? As I said, totally minor things. But to me they add up in my Manhattan-addled brain.
As the Czar pointed out in his post on the debate, the other candidates should be able to smell blood. If Mitt (with 2-T's), reacts to the coming attacks by:
1. displaying a sense of inevitability or entitlement
2. whining to debate moderators
3. running on the "Perry is soooo stupid" theme …well, my money is on another "candidate of destiny" biting the dust.
Yours from the Doublewide, JAB
Operative JAB, as Dr. J. mentioned earlier. Thinking through 9-9-9 out loud got teh interwebz a twitter. He really believes this is because the Republican base is so engaged in the 2012 race that they are looking at the candidates with a fine tooth comb and as a consequence they are pulling out all the nits. Frankly, candidate dissatisfaction that it isn't just MSM propaganda. The Republican base wishes they could create a golem from pieces of each of the candidates because each of them has a big negative associated with them that can be exploited by the D's come next November.
Again, Dr. J. has not made up his mind who he is voting for in the primary. He wishes for a Ryan/Bolton ticket but that is not going to happen, so he should quit talking about it and figure out who he is actually going to vote for. But, he will continue to think out loud because folks seem to enjoy that.