Mailbag- Puter's sack edition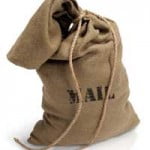 A couple of letters came in in response to Dr. J.'s post regarding ADHD.
First, Operative FJR writes in:
Read your list of ADHD symptoms and realized I don't know anyone in the construction industry that doesn't exhibit those symptoms. I have a better understanding of why I gravitated from working as an engineer to managing construction.
FJR, you are very observant. My read my point exactly. People are resilient, and can adapt to a large number of stressors. ADHD is not a death sentence, and folks truly diagnosed with this malady can be and are successful if they can find their niche.
The ever wise Uncle Jay also writes in:
Now, if you will do us all a public service and whip up a similar "we-know-it'-a-nice-excuse-to-be-a-bitch-but-not-everyone-actually-suffers-from-it" summary of PMS.
I swear, if 90% of the women that claimed "I'm having PMS, leave me alone" actually had the REAL symptoms, civilization as we know it would come to a standstill.
(Kinda like migraine headaches…)
Uncle Jay, the Volgi can assure you that migraines are real. They are a result of arterial spasm in the head. I've never had one, but I've induced a few and treated many more. Interestingly, if you have a hole in your heart, called a patent foramen ovale, or PFO, you are at higher risk of them. Probably something to do with evil humors in venous blood that would be otherwise be destroyed in the lungs bypassing them via the PFO and making cerebral blood vessels unhappy.
PMS, well that's a pretty real thing as well. But, like many syndromes at the interface between psychology and physiology, such PMS, chronic fatigue syndrome and fibromyalgia, they are overdiagnosed and even wrongly diagnosed. In addition, as House would say, "People Lie," making up diagnoses for themselves. As a consequence folks think these illnesses as total BS.
Thanks for writing in!