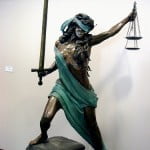 Right off the bat, this is not about the brutal demise of a brutal dictator in North Africa. Dr. J. can't get more gormotastic than The Czar on the subject, so he won't try.
The lil resident is learning about American monuments and symbols in social studies at the New Atlantis Jedi Academy. Among her projects were make a 3D map of the Washington Monument, reflecting pool and Lincoln Memorial, and to recognize and name several major landmarks and monuments across the U.S. All of this culminates in Monument Day where the kiddos dress up as a monument or symbol and have to present facts about their monument. The great thing about this project is that it reminds us of the values and ideas that our nation was founded on. Dr. J. wishes that there was more of this in our schools, because we spend far too much time learning why Bobby has two daddy's andy why our Founders are all evil slave owning devils, and not enough time on true civics. Even Dr. J.'s marxist 10th grade got us up to speed on the Constitution and our system of government better than what most kids are getting now. They parade through all of the classes at the academy for all the younglings and padawans to see.
There were some creative costumes, but the lil resident went as Lady Justice.
Now, after the founding of our nation, there was a Classical revival. In addition to Classical ideas and philosophy being brought into the political arena and public square, much of the architecture in D.C. and elsewhere transitioned away from Colonial brick structures, to tall white structures with columns, reminiscent of Greek or Roman architecture. In addition Classical styled art and iconography also came into the fore.
Lady Justice, was based on the Roman goddess of justice, Justitia, or her Greek counterpart, Dike. She has a sword in her right hand, scales in her left, and a blindfold. Now, the blindfold represents that justice should be blind. In other words, who you are, your station in life, race, religion, etc…should have no bearing on the case. Dr. J. and the lil resident talked about this aspect of justice because she had trouble understanding it.
Her difficulty understanding the concept is because it was so obvious to her that it should be thus. We discussed a couple of different scenarios, to help her understand that there are folks who feel that protected groups should get special treatment under the law. She easily grasped that a rich man should not get off easier than a poor man if both of them, say, were caught speeding. They should get the same penalty. Dr. J. then turned it around. He said, lets say a poor man robbed daddy, and was caught. We went to court and the judge said, Dr. J., there was only $85 in your wallet, and he needs it more than you do. He wants to feed his kids with it, so we're going to let him off. The lil resident understood that that was equally preposterous. We then got into hate crime legislation, and she agreed with Dr. J. that it doesn't matter if a white man kills a black man or another white man, the penalty should be equally severe. Indeed GWB in the James Byrd, Jr. murder case opined that his murderer was going to face the ultimate penalty for his crime, so adding 10 years for a hate crime on top of the death penalty seemed a little silly.
She and Dr. J. had an exausting discussion on the difference between treating people equally, or the same, and how that is different from being 'fair' a term fraught with peril.
The balance represents the two sides of the case. Basically each side presents their case and the scale will tip one way or another based on the merits of the case. Indeed, there are individuals currently in our justice system that feel that the narrative is so compelling that those scales should be tipped in one direction even before hearing the case.
She also wields a double edged sword that represents Reason and Justice and being double edged symbolizes that it can be wielded against the plaintiff or defendant as the case may be.
In addition to this being a great day and experience for the lil resident. It coincided with an NRO symposium on the 20th anniversary of Clarence Thomas joining the Supreme Court. His former clerks and colleagues give a wonderful perspective on this maligned and misunderstood justice.
A few highlights:
While race does not and should not influence Thomas's decision making on the bench, it surely shapes his voice and the nation's perception of his racial jurisprudence. Nowhere is that more apparent than in his 2003 dissent in Grutter v. Bollinger, in which he famously begins by quoting Frederick Douglass: "The American people have always been anxious to know what they shall do with us. . . . Do nothing with us! Your doing with us has already played the mischief with us." "Like Douglass," Thomas adds, "I believe blacks can achieve in every avenue of American life without the meddling of university administrators.- Curt Levy"
Unlike some of his fellow practitioners of judicial restraint who adhere strongly to stare decisis, he takes the Constitution as "the ultimate precedent": If a prior decision is wrong, it should be fixed, and the sooner the better. He reminds us that the passage of 60 years after Plessy v. Ferguson did not render that precedent more worthy of respect. -Wendy Long
No one, of course, would deny that Justice Thomas has strong conservative views on constitutional law. He rejects much of affirmative action, believes Roe v. Wade was wrongly decided, recognizes broad executive powers in wartime, and allows religious groups more participation in public life. But I have long thought that there is a deeper principle of political philosophy at work in Justice Thomas's thought that goes beyond the close interpretation of disparate constitutional texts. What he brings to the Court as no other justice does is a characteristically American skepticism of social engineering promoted by elites — whether in the media, academia, or well-heeled lobbies in Washington — and a respect for individual self-reliance and individual choice. He writes not to be praised by professors or pundits, but for the American people. John Yoo
Dr. J. believes that the modern activist judges, perhaps originally because they were leading with the heart, rather than the head, wanted to make up for activist judges past sins (i.e. Dred Scott) by trying to be 'fair.' In so doing, they took off their blindfolds, disregarded their scales and wielded their swords against innocent parties. Fortunately, we have some judges, like Justice Thomas, who have kept their blindfolds on and their scales zeroed despite being pilloried for it in the press.