It's the Season of the Witch!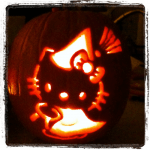 Dr. J. would like to wish our readers, followers and especially our minions a Happy Halloween!

The Halloween Fairy (She's real, unlike that Great Pumpkin chap) made her annual visit to the J. household this morning leaving little treats for the lil resident and lil med student. After a street tailgate, tonight, the J.'s will be shaking down the neighbors for candy. We hope your family traditions are as fun and festive this fall evening!