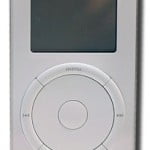 Dr. J. is wondering when the Founding Gormos will be returning to the castle.
The Czar's mail is piling up. The machine that goes ping in Mandy's lab stopped going ping. We're out of yeti Food for Volgi's pet, and he is looking at Dat Ho and licking his lips. There are system updates waiting for GorT. For 'Puter, well, E.J. Dionne and Maureen Dowd have fading bruises in need of replacement…the doctor hopes you get back to town soon.
Regardless, there is a piece in
Mac|Life about the iPod turning 10
. Time flies. The newest iteration (
the iPhone 4S
) makes phone calls, talks back to you, has a touch screen, video camera, plays movies and games, just to name a few features.
It has come a long way baby…