Incoming Message From Durandal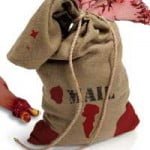 Clever reader JA writes in to say:
Re: the Marathon screen cap in a recent post. BEST. GAME. EVER.
Yeah, don't we know it.
See kiddies, in the days before Halo, there was Marathon. Indeed, attentive players of the Halo franchise will see numerous references to Marathon throughout the games. Marathon, you see, was so cool that it sold millions of copies even though few people seem to have even heard of it.
The Mandarin, Volgi, and the Czar spent hours playing that game; one day, Volgi and your Czar spent four hours playing one single network level. We amassed over 1,200 corpses before we realized we needed to get dinner. Some Friday nights, Mandarin, Volgi, and the Czar would log serious time and totally tie up the network. We even created our own maps for it, some of which were quite fun.
GorT complained heavily about the lack of haptic four-dimensional interfacing, of course, and 'Puter's gaming highlight was to press the esc key until the computer beeped. Except he didn't have a sound card, so we couldn't hear anything.
Bluesun also writes in:
Dear Mr. Dread and Powerful Axe-Hacking Machine (figuratively, of course, wouldn't want to offend GorTechie) The Czar of Muscovy,

I found this display of the power of the Gormogons at the local Big Box Electronics Store of Doom quite frightening. I knew you all are diabolical in your plots, but an entire wall display of Hello Kitty? I shudder, shudder, at your power. All I ask is to be spared in the coming Hello Kitty Uprising/Apocalypse (and we thought zombies were bad!).

Your loyal reader, and occasional linker

-bluesun

Yes, well, here is the story.
The Hello Kitty concept originated with us in the late 1970s as a symbol of the mute horror each of you will experience when we completely finish consolidating our earthly powers and enslave you all. Note the lack of a mouth but her urgent need to scream.
Sadly, due to a major screw-up in our marketing department, the logo became popular with millions of Asian girls aged 5-10. This state of affairs is a love-hate thing for us, because while we still intend to employ the logos as symbols of our ferocious tyranny, they also are a massive cash cow for us in the merchandising arena.
Next time you see a Hello Kitty item, you know something evil dwells inside. And it cost twice what it should have.

Божію Поспѣшествующею Милостію Мы, Дима Грозный Императоръ и Самодержецъ Всероссiйскiй, цѣсарь Московскiй. The Czar was born in the steppes of Russia in 1267, and was cheated out of total control of all Russia upon the death of Boris Mikhailovich, who replaced Alexander Yaroslav Nevsky in 1263. However, in 1283, our Czar was passed over due to a clerical error and the rule of all Russia went to his second cousin Daniil (Даниил Александрович), whom Czar still resents. As a half-hearted apology, the Czar was awarded control over Muscovy, inconveniently located 5,000 miles away just outside Chicago. He now spends his time seething about this and writing about other stuff that bothers him.