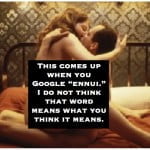 Down in the depths of the Gormogons' archives (still waiting for Marie to graduate and come organize them—we're trying to talk GorT out of Dewey Hexavigesimal), word has reached Confucius* that the mass of GOP voters are unexcited about their candidates. Given the nigh-cosmic acedia these guys inspire in him, he wasn't surprised. He was, however, surprised at how widespread the phenomenon appears to be. William Kristol claims "81 Percent of GOP Primary Voters in Play." Which this might well be another in Mr. Kristol's well-documented attempts to lure more impressive candidates in, he's citing a CBS/New York Times poll, which organizations can't fairly be accused of wanting a higher-firepower Republican candidate in the race.
Given the supervisory role embedded in the Canon Gormogonicus** for the Volgi, Confucius thought he should poll the guys around the Castle and see if they had any candidates that they were backing strongly. Herewith the results.
Confucius.
Usually resides in the Slough of Despond, sees no reason to leave. All these 白痴 are clowns. Romney is the most presentable, but he's a bloodless, unprincipled opportunist who's never seen a large-scale, centralized solution he didn't think he'd be awesome at running. Rumor has it that as a boy, he was flipping through the dictionary, saw the word tech·no·crat and said, "Gee whiz, sign me up!"
The Czar.
Has also not settled on a candidate. May be waiting for someone to advocate making him the Czar of Czars, i.e., the Czar Czar. Rumor has it he would also accept the position of Secretary of Flogging, Flaying, and Brute Decapitation.
'Puter.
Ghetto P is also formally uncommitted. Ironic, huh? He likes Cain best but doesn't think he's prepared. He foresees, sadly, a Romney/Cain ticket, "which might not suck too bad, particularly if Mitt sets Herman loose on Crazy-Assed Joe Biden. Oh, the VP debates would be things of beauty." On the other hand, if Biden goes Full Wackjob, 'Puter might be tempted to vote for him out of Asylum Escapee-American solidarity.
The Mandarin.
Mandy is, provisionally, on the Cain Train, which he considers a horribly retrograde form of transportation, and wishes to convince the candidate that the he should consider the Cain Teleporter for efficiency or the Cain Tracked Engine of Death to impress his enemies. Of course, he's been trying to sell the T.E.D. to armies since 2003. Nine-story tanks bristling with artillery with a maximum speed of 3 mph are apparently not in hot demand, but if you want one, e-mail him.
GorT.
GorT fancies cyclical models of history (and given his time-travelling ability, are you going to contradict him?) and believes we're just at a nadir, in terms of leaders. That doesn't explain the odd reticence to get into the race of those GOP candidates generally considered A-list before the election, but he may have a point. He, like 'Puter, considers Cain unprepared but the least-bad choice.
Dr. J.
Judging from this prescription-pad page shoved under Confucius' door—and his ability to decipher scripts which have driven expert palæographers insane—it appears that Dr. J also remains uncommitted, "I am undecided. Every time I like someone they do something stupid. ℞ One Mandarin boot in the gut daily until sense presents."
Dat Ho.
Despite his reluctance to express any opinion when the Czar or 'Puter is around, Confucius managed to elicit his opinion (by lifting 'Puter's key to his cage and letting the kid have a baloney sandwich in the kitchen). He insisted that none of them had condemned the People's Republic of Vietnam formally nor advocated knout control, so he wasn't backing any of them.
Sleestak.
Oddly, he's holding out for Chris Christie. Possibly because of the sibilants in his name. Who knows.
Inetef-Te-Henqet, our reanimated mummy butler, is only eligible to vote in Cook County, Illinois, so we didn't bother asking him.
In conclusion, more than 81% of the Gormogons are uncommitted, approaching 100%, other than the Mandarin's "If I had to vote today…" endorsement of Cain. So herewith does the Œc. Vol. certify:
THE FIELD UNDERWELMETH.
*For those who came in late: Confucius holds the office of Œcumenical Volgi for the Gormogons.
**Only public copy was an appendix to Vol. 5 of the Seven Cryptical Books of Hsan, none of which were known to survive the Yüan Dynasty. Sorry, kids. [DM @MBernadetteE: Tower 3, Floor 4, Shelf 6, Codices 4-11.]

Don't ask impertinent questions like that jackass Adept Lu.