GLOBAL WARMING DENIURZ IZ TEH RONG!!1!el!eve!1!nty!!1!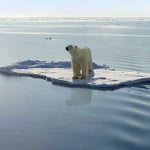 In today's Washington Post, columnist Eugene Robinson attempts to discredit those of us who are skeptical of the Left's religiously raputrous embrace of The Holy Mother Church of Anthropogenic Global Warming.
In his weak attempt, Mr. Robinson manages to increase his carbon footprint dramatically, through his creation and burning of numerous straw men.
Mr. Robinson's central claim is flawed in that he states all global warming skeptics hold the following position: there is no data supporting increased global temperatures. Well, Mr. Robinson, you've quite nicely framed the argument on terms you can win.
'Puter knows a fair number of global warming skeptics, and many of us "deniers" do not deny that the Earth is warming. What we deny is that there is any scientific certitude as to the cause of the warming, or that the warming is cause for great alarm and crippling "remedies." Lefties like Mr. Robinson believe in the absence of definitive, scientific proof that man is the sole (or major) cause of the Earth's increased temperature. They discount other equally plausible causes, such as solar cycles and increased cosmic radiation.
Anthropogenic global warming advocates such as Mr. Robinson mistake correlation for causation. Let's assume AGW advocate Mr. Robinson and his co-religionists are correct in that (1) the Earth is warming and that (2) carbon dioxide emissions have increased during this most recent warming. Where's the indisputable scientific proof of a link between the two independent phenomena?
You'll hear AGW jihadis claiming that because we know carbon dioxide is a greenhouse gas, because carbon dioxide emissions are increasing and because the Earth has warmed as carbon dioxide emissions have increased, therefore, increased manmade carbon dioxide emissions cause global warming. Q.E.D.
Here's a few questions/statements from 'Puter.
1. Correlation does not equal causation, and data is not the plural of anecdote. Get back to me with hard proof that removes all other potential variables.
2. The environment is a giant, complex, interrelated system. Your conclusions implies that you have managed to narrow down, out of the myraid inputs and variables, the cause of global warming to exactly one item: manmade carbobn dioxide emission. Please show your work. That is, show how you have, through use of the scientific method, eliminated all other possible causes of global warming, including but not limited to the aforementioned solar cycles and cosmic radiation.
3. Assume you are correct, and that in order to "save the Earth from a horrible, fiery inferno that will doubtlessly occur sometime in the next 30-5,000 years," we must eliminate all use of fossil fuels. Are you aware of the impact this will have on the American economy and standard of living? Are you aware that if you limit or eliminate carbon emissions in developing nations you are damning billions of people to continued poverty? Is the cure worse than the disease?
4. Please explain how your theory of AGW is any different than any other number of scientific certainties throughout the ages that turned out to be not just a little wrong, but horribly and monstrously wrong. See, e.g., parthenogenesis, geocentrism, etc.
In short, Mr. Robinson makes the category errors that so frustrate 'Puter, and probably most of the other Gormogons. AGW believers paint "deniers" as holding positions they do not. AGW believers refuse to countenance other plausible explanations for the Damoclean sword of impending AGW doom. AGW cultists refuse to look at the consequences, intended and unintended, of their proposed solutions. For these reasons, 'Puter has a difficult time taking them at all seriously.
AGW has become a Leftist religion for the unchurched liberals, with all the trappings and failings associated with any true religion, including irrational intolerance of questioning positions. It's sad that AGW's worshipful congregants can't see the trap into which they have fallen.

Always right, unless he isn't, the infallible Ghettoputer F. X. Gormogons claims to be an in-law of the Volgi, although no one really believes this.
'Puter carefully follows economic and financial trends, legal affairs, and serves as the Gormogons' financial and legal advisor. He successfully defended us against a lawsuit from a liquor distributor worth hundreds of thousands of dollars in unpaid deliveries of bootleg shandies.
The Geep has an IQ so high it is untestable and attempts to measure it have resulted in dangerously unstable results as well as injuries to researchers. Coincidentally, he publishes intelligence tests as a side gig.
His sarcasm is so highly developed it borders on the psychic, and he is often able to insult a person even before meeting them. 'Puter enjoys hunting small game with 000 slugs and punt guns, correcting homilies in real time at Mass, and undermining unions. 'Puter likes to wear a hockey mask and carry an axe into public campgrounds, where he bursts into people's tents and screams. As you might expect, he has been shot several times but remains completely undeterred.
He assures us that his obsessive fawning over news stories involving women teachers sleeping with young students is not Freudian in any way, although he admits something similar once happened to him. Uniquely, 'Puter is unable to speak, read, or write Russian, but he is able to sing it fluently.
Geep joined the order in the mid-1980s. He arrived at the Castle door with dozens of steamer trunks and an inarticulate hissing creature of astonishingly low intelligence he calls "Sleestak." Ghettoputer appears to make his wishes known to Sleestak, although no one is sure whether this is the result of complex sign language, expert body posture reading, or simply beating Sleestak with a rubber mallet.
'Puter suggests the Czar suck it.