The Doctor reflects upon 9-9-9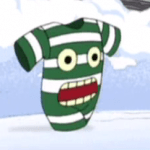 There was much in the conservative blogosphere yesterday regarding Herman Cain's (Dr. J. keeps wanting to type Herman McCain for some bizarre reason) 9-9-9 plan. J Edmo of @jedmo fame on twitter linked to Dr. J.'s mancrush, Art Laffer regarding his WSJ hagiography of the plan.
Dr. Laffer opens his piece with some background regarding how the tax code evolved from a revenue raising device into a behavior modification device almost as powerful as Mandy's satellite mind control ray. He reminds us, as well that we spend a great deal of time, money and effort in order to insure that we are paying as little in taxes as possible. Indeed, in a previous article, he discussed the '30 cent tax premium' concept describing this point in detail.
At this point he goes on to analyze the 9-9-9 plan. Accounting for individuals below the poverty line being exempt, he projects that the tax plan, at inception is revenue neutral for the government. That being said, his opinion, along with Dr. J.'s opinion, that a simplified, permanent tax code would result in significant economic growth resulting in increased revenues for the government above and beyond that which is projected.
In that sense he is correct. He even points out one of the major flaws of the plan which is the same problem that the federal income tax faced in 1916. That is, what is to stop future congresses from raising taxes. The answer is for the American people to not allow themselves to be bought like they were with promises of retirement and health care subsidized by the fruit of their children and grandchildren's labor, and perhaps requiring supermajorities to override the redrafted code. The other issue that he doesn't address is that almost half of American workers do not pay Federal Income Tax anymore. Those above the poverty line will be 'on the hook' for something. So the libs and other detractors from the plan are saying that Cain 'wants to raise taxes on the middle class.'
Like Art said (can Dr. J. call you Art? Thanks, Art!), this type of plan will create growth and prosperity that any hit these folks take will be paid pack in spades as economic growth results in greater prosperity. Now, he doesn't really tackle the 9% corporate or sales tax components in his essay, so the Doctor had to look around.
And this is important because Mr. Cain offers that 9-9-9 itself is a transition to a Fair Tax or a national sales tax. There are provisos in such a tax plan that attempt to protect lower income families with a government 'prebate' or advance on the tax burden that they would be paying via consumption. Now transition to the Fair Tax would include repeal of the 16th amendment, ending the Income Tax era. There are numerous flaws with this sort of strategy, which include repealing an amendment and also continuing the culture of dependence via the prebate program.
Josh Barro, a Manhattan Institute Economist skeptical of the plan took a shot at how the 9-9-9 plan adds up for a family of four making $50K a year. They would pay by his calculation $8340 ($690 in income tax and $7650 in payroll tax). With the 9-9-9 plan they pay $4500 in income tax, $3000 in sales tax and $3500 in VAT adding up to $11,000 in taxes. Now let that's a big bite, but it is hoped that economic growth would result in economic growth for said family of 4 and they can grow, rather quickly, out of that burden. He goes on to skewer Dr. Laffer's analysis of the plan more because of the plan itself and Dr. Laffer being tripped up in the details, and because he doesn't talk about the acute impact onthe middle class.
Now what neither Mr. Barro, nor Dr. Laffer do is adjust their models for what we already are paying in corporate tax translated into increased cost for goods and services. The reason for that is because a GE refrigerator has zero corporate tax rolled into the bill, but a tank of gas does. Our government picks winners and losers to the point that those estimates are challenging at best and impossible at worst.
Megan McArdle (Volgi's econo-crush) has her misgivings as well.
So what are we to take away from this? First and foremost Dr. J. gives Herman Cain props for proposing something different. He agrees with Megan McArdle and Dr. Laffer that simplifying the tax code would do us tremendous good.
Indeed, Dr. J. favors a strategy that involves a relatively flat income tax (something like 1% on the first $20,000, 10% on dollars $20-50,000, and 15% on everything above that) with perhaps only charitable giving as a deduction. He would have a low capital gains tax. He would have simple, universal and low internationally competitive corporate tax.
Dr. J. would incentivize individuals to save for retirement by permitting a certain percentage of income to be pre-tax if it is being put into an employer provided 401K, 403B, or if their employer is not providing one of these programs, or if the individual is self employed, approved retirement funds or the government's Thrift Savings Plan (TSP.gov). Individuals can set aside up to $5,000 per year into a health savings account that can be rolled over annually. Health Insurance plans can be purchased with pre-tax dollars as well.
So Mr. Cain gets points for trying. It isn't a perfect plan but it opens up a dialogue. What people have to realize is that the current system is designed to collapse. As the tax burden is being shifted more and more on higher earning workers, the harder it will be to correct things in an equitable and economically stable manner when the crap ultimately hits the fan and the rich go Galt on America. No matter when the problem gets fixed, it's going to hurt initially, but the boom times to follow will be enjoyed by so many more.