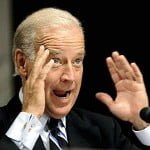 From Real Clear Politics:
"I'll make up my mind on that later," Vice President Joe Biden said in an interview with CNN's Candy Crowley. "I'm in one of the, probably the best shape I've been in in my life" I'm doing pretty well. I'm enjoying what I'm doing, and as long as I do, I'm going to continue to do it," he said.
Vice President Biden, would be 74 when he would take office in 2016…but imagine, the 4-8 years of gaffetastic material we'd have to work with…if we survive 4 more years with One Term President™ Barack Hussein Obama.