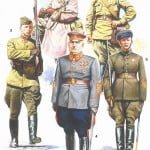 Your Mandarin was intrigued when he happened upon this story about a member of the Junior Reserve Officer Training Corps program at Ravenwood High School in Brentwood Tennessee.
You can read the whole article yourself, but the summary is a female student, that happens to be Muslim is told that according to Army regulations she cannot wear her hijab while wearing her uniform on parade.
Of course the student's family feels that she is being discriminated against and has teamed up with the Council on American-Islamic Relations (CAIR) to pressure the school district and the Department of Defense to reverse their uniform policy. According to CAIR, the current uniform policy effectively bars a Muslim student from participating in the class.
The student's mother has also stated that she thinks it is un-American that anyone is not allowed to participate over religious beliefs.
Your Mandarin would like to point out a few things to this student, her family, and CAIR. First, the military is a voluntary organization with a distinct set of rules required for the efficiency and safety of our troops to be able to perform their duties. Second, at no time was this student told that she could not participate in the parade or the JROTC program because she was a Muslim, but rather because she was not adhering to the regulations addressing the proper wearing of the uniform.
There is no discrimination here, just another "victim group" looking for a special accommodation.

The Mandarin, whose real name is 吏恆, joined the order in 1309, and introduced the Gormogons into England during the 18th Century.
The Mandarin enjoys spending time with his pet manticore, Βάρἰκος, or Barry (who can be found in the Bestiary). When not in the Castle…well, frankly, nobody is quite sure where he goes.
The Mandarin popularized the fine art of "gut booting," by which he delivers a powerful kick to the stomach of anyone that annoys him. Although nearly universal today, the act of gut booting or threatening someone or something with a gut boot is solely due to him.