Time is the clock of the heart…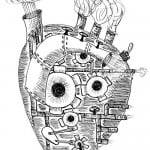 Let's say you need heart surgery, typically what we do is put you on a heart/lung machine (aka cardiopulmonary bypass (CPB)) to keep the rest of you alive while we are operating. We then stop the heart by putting it on ice, do our thing, bringing heart back online, give it a jumpstart, sew you back up, and take you to recovery. We've been doing this sort of thing since 1951, so old technology right? Right.
Now recall GorT's post from several weeks ago regarding innovation. Another way of looking at innovation is finding a new use or value generated from old technology.
So, one of the limitations of heart transplantation is that once we get all 'Kali Ma' on the donor and pluck the heart from his chest, we have about 6 hours to get it into someone else's chest before it begins to go bad.
So, the guys at Transmedics got the following idea,"If we can put a patient on CPB, why can't we put a heart on CPB while we are transporting it." Why not indeed…this idea is ingenious. The device is in Phase II development, so it stands to reason, so long as the data continue to be promising that in 5-10 years, it will probably be how organs get preserved for long trips. Based on what Dr. J. has read, this is not some pie-in-the-sky notion, but a practical and realistic technology. The advantage of this methodology is that better donor/recipient matching will be possible. A patient in California can get a heart from a donor in Tennessee, and vice versa. There likely be less rejection because there will be better matching of donors to recipients and longer term transplant success will be the outcome. Hopefully this exciting innovation won't become a victim of Obamacare.
Hat tip Geeks are Sexy.