Thunder, Thunder, Thundercats, HO!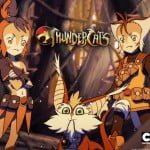 Dr. J. is a bit of a cartoon aficionado. You may recall him giving a shout out to Young Justice a several month's back. So when there are new episodes of the Scooby Doo: Mystery Incorporated, Star Wars: The Clone Wars, Batman: The Brave and the Bold, or Young Justice, it has been our habit on Friday night to bust out some popcorn, sit on the sofa and enjoy some animated escapism.
When it was announced that the Thundercats was getting a re-boot, Dr. J. was highly skeptical. He caught a few episodes of the original as a kid, and it never did much for him. It was a cool concept that never lived up to its potential. The premise, if you recall was that there were these cat people fleeing a fallen homeworld and marooned on an alien world, doing battle with their enemy, Mum-Ra and his legion of followers. They were lead by Lion-O, the crown prince of the Thundercats. Because of issues with suspended animation, he was a child in a man's body. So it was the typical hero's journey with all the archetypal trimmings, the wise old man (men), the warrior, the trickster(s), the hot headed sidekick, the love interest.
So, back in July, Dr. J. tuned in and, like with some of the other cartoon reboots, he was VERY pleased with what he saw. There is much better writing with a season long story arc, the characterizations are much more real, and the world that these characters live in is very well thought-out and believable for a sorcery/super-science universe with anthropomorphic critters.
The set up is this: The cats are are civilized city dwellers who are wealthy and prosperous. Even within their society there are castes and social stratification, much like ancient Rome or Greece. Other animal races are treated badly and excluded from their society (lizard men for example). Lion-O is the crown prince, he is a dreamer and a visionary, but not terribly mature. His adopted brother Tygra is older, wiser and more skilled as a warrior, but as a tiger man will never be king. Long story short, the city gets attacked by the forces of Mum-Ra and destroyed, the king is killed and Lion-O, Tygra, a cleric/bodyguard Cheetara, two impish street urchin rogues Wily-Kit and her brother Wily-Kat escape the city and go on a quest for the Book of Omens as it holds the secrets to defeating Mum-Ra.
All of the episodes so far have ranged from pretty good to outstanding. Two in particular should not be missed when they are rebroadcast and fortunately stand alone so well that one does not need to watch the series to understand them. First is
Song of the Petalars
, where the Thundercats meet a race of little plant people who live their entire lifecycle in one day. It is a powerful reminder of the frailty of life and a life well lived is a life worth living. Even Dr. J. got choked up during this one. The second is
The Drifter and the Duelist
, staring the voice talents of Miguel Ferrer as the duelist. In this one, Lion-O loses a duel with the Duelist, loses the Sword of Omens to him, and with the help of the drifter tries to win it back.
Dr. J. is writing about this today because the pilot is being rebroadcast tonight at 8:30 Eastern time on Cartoon Network allowing you to get caught up before new episodes begin on October 28th. This is a show definitely worth checking out, so set your DVR's folks!