Spinning Around the Axelrod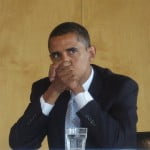 Yesterday, David Axelrod stopped working on his résumé long enough to state that the President is in great shape for 2012.
Members of the media have focused on the President's approval ratings as if they existed in a black box…Following the intransigence of the Republicans during the debt debate, the approval rating of the GOP brand dropped to a historic low. The approval rating of Congress dropped to a near historic low.
Anyone see what is wrong with each of these three statements?
First, the President's approval ratings reflect only on one person: the President. So if the President has low approval ratings, there is pretty much only one person to blame. Ah, you already guessed who it is. The problem isn't just that his ratings are down on average—they are down in every key voting group. Most telling, of course, is that his approval ratings are very much down among Undecided voters. Hint: when an Undecided voter says he or she is undecided about the incumbent, history shows they are waiting to vote for whomever claims the other party's primary. Meaning, they aren't undecided at all about the incumbent.
Second, the low numbers among GOP candidates (some polls show the President beating the leading GOP contenders) are easily understood by there being three or four major candidates. We see Romney pretty close, plus or minus, to Obama. But let us imagine what would happen if Romney won the GOP primary: the vast majority of Republican voters would rally to him, and there you are. Romney wins with a wide lead. You can, of course, substitute Perry for Romney in that same exercise. Hell, you could put Gingrich in there and the results are pretty much identical.
Third, the low approval rating of Congress means nothing. Congress usually has low ratings, even when not at record lows like today. This is because everybody hates Congress because they don't vote for 99% of them. Think about it: a voter only votes for one representative and generally one senator per election (barring circumstances in which two senators may be running in the same state). Consequently, the average voter cares not one whit for Congress outside of their own guys.
Sure, there can be a few Congresspeople from other districts or other states you like, but the bottom line is that Congress has never enjoyed approval ratings as high as presidents sometimes get. And, more importantly, so what? On Election Day, 2012, voters will not be selecting 99% of Congress. But they will be voting for a president.
And that makes Obama's poll numbers as bad as they get. And each week, they seem to drop a little more. And no surprise that some prominent Democrats are suggesting they need a primary of their own. Of course, not because they do not want Obama to win…heck, no, that's be racist. But because, as Dennis Kucinich explains, a primary would energize Obama enough to return to his glorious avatar as a candidate. Yeah…that's the ticket. A primary is a good thing. And if Obama loses in a primary, well…uh…that's the strength of Democracy for you!

Божію Поспѣшествующею Милостію Мы, Дима Грозный Императоръ и Самодержецъ Всероссiйскiй, цѣсарь Московскiй. The Czar was born in the steppes of Russia in 1267, and was cheated out of total control of all Russia upon the death of Boris Mikhailovich, who replaced Alexander Yaroslav Nevsky in 1263. However, in 1283, our Czar was passed over due to a clerical error and the rule of all Russia went to his second cousin Daniil (Даниил Александрович), whom Czar still resents. As a half-hearted apology, the Czar was awarded control over Muscovy, inconveniently located 5,000 miles away just outside Chicago. He now spends his time seething about this and writing about other stuff that bothers him.