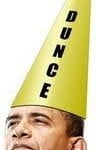 Obama's stimulusjobs act and deficit control plan is going over like a lead balloon and has more holes in it than 'Puter's poster of EJ Dionne mounted on the back of his man-cave's door. The president's plan tries to account for roughly $3.1T in deficit reduction in three main categories. First, he conveniently counts $1.1T due to the draw down of military operations in Afghanistan and Iraq. Given that this was always his plan from the campaign forward, it's a bit disingenuous to baseline with that spending going forward. Second, he moves the goal posts again by using a baseline that extends the 2001 and 2003 tax cuts so the plan can realize a $866B savings from not extending those cuts for upper income earners. Third, Obama identified cuts to various health programs (Medicare and Medicaid) that total $320B.
Budget experts are weighing in:
The latest Obama plan "doesn't produce any more in realistic savings than the plan they offered in April," said Maya MacGuineas, president of the bipartisan Committee for a Responsible Federal Budget. "They've filled in details, repackaged it and replaced one gimmick with another. They don't even stabilize the debt. This is just not enough."
"Almost $2 trillion of the $3 trillion [savings] total is obtained by choosing the most convenient baseline assumption," said Robert Bixby, executive director of the bipartisan Concord Coalition. "There are, of course, some legitimate proposals here, but not the kind of structural changes that are needed in entitlement programs and tax expenditures to put the budget on a sustainable path."
Then, of course, there's the "Buffett Rule" which is getting a lot of press. The easy and most simple counterargument to the push for this revision to the tax code is that many are comparing apples to oranges. The wealthy, like Buffett, generally earn substantially more income from investments and therefore are subject to a different set of rates and limits while his secretary is paying income taxes at the prescribed income tax bracket rates. This is a lot of political hay, but when it's boiled down, the wealthy pay more taxes than those who earn less.
Don't get me wrong, the president has some decent ideas in there that aren't likely his and borrow from pitches that the GOP has made previously in Congress. One such piece will be a dud with his public sector union friends: the president is calling for federal workers to contribute 2% of their paycheck towards pension benefits. That's a significant increase from the current 0.8%.
I fully expect the liberals still clinging to the anointed one to defend this position with a mix of you've-got-to-like-the-tax-reforms, it's all Bush McChimpyHitlerburton's fault he left us with !1!1!!eleventy!!11 trillion dollars of debt, and other nonsense. But in the end, I'd ask them if they can do the simple math.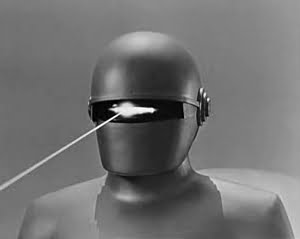 GorT is an eight-foot-tall robot from the 51ˢᵗ Century who routinely time-travels to steal expensive technology from the future and return it to the past for retroinvention. The profits from this pay all the Gormogons' bills, including subsidizing this website. Some of the products he has introduced from the future include oven mitts, the Guinness widget, Oxy-Clean, and Dr. Pepper. Due to his immense cybernetic brain, GorT is able to produce a post in 0.023 seconds and research it in even less time. Only 'Puter spends less time on research. GorT speaks entirely in zeros and ones, but occasionally throws in a ڭ to annoy the Volgi. He is a massive proponent of science, technology, and energy development, and enjoys nothing more than taking the Czar's more interesting scientific theories, going into the past, publishing them as his own, and then returning to take credit for them. He is the only Gormogon who is capable of doing math. Possessed of incredible strength, he understands the awesome responsibility that follows and only uses it to hurt people.