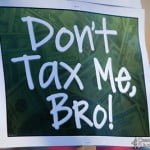 Ken, who asked to go by the code name of "Ken," writes in:
Good afternoon, Your Czarship,

Actually, I agree that a janitor and a billionaire should pay the same tax rate.

Income tax, at any rate. Both should pay zero. I would repeal the Sixteenth Amendment.

Best,
Ken
Okay. We might argue that paying nothing isn't paying anything, but paying zero is paying the same as someone else who doesn't pay.
But repealing the 16th Amendment requires replacing it. One doubts you would love to see a return of tariffs. Or, God help us, a VAT. A vague, ill-described "consumption tax?" These are more ripe for abuse because you never really know how much you wind up paying. With an income tax, you can predict and with very little math get pretty close to the mark. Take a look at property taxes: no one likes theirs, and you know why? Not because you pay too much; maybe you pay too little. Who knows? The problem with property tax is that you never really quite know where it all goes, and anyone can jigger it anytime. It is a terrible system.
And a massive corporate income tax? Well, we already have that, and it is a bit unproductive, employment-wise.
The problem is that federal tax dollars go to pay for an awful lot: bullets in rifles, food for federal corrections officers, Air Force One, a generally otherwise unrestricted interstate highway system, the very cool Cassini probe, and a heckuva lot more. Stuff costs money. And while folks like ourselves want to slash, slash, slash federal spending, the reality is that cutting away all the fat in the world still leaves a massive budget of necessary items. Thinking we can do away with all of it is Ron Paul/World Net Daily nonsense. Libertarianism is one thing, but anarchy quite another.
So with what do we replace income tax, then? Interestingly, and historically, countries have tried to eliminate income taxes, and usually wind up in dire straits pretty damn quick. Countries have rolled back or eliminated income taxes…instituted a VAT, consumption tax, or national sales tax…and then wound up in terrible financial shape. Within a few years, guess what comes back? Right: the income tax…on top of the previous tax. All in all, we have done very well despite, or maybe because of, that 16th Amendment compared to other countries who try everything but a well-managed income tax system and still either go down the drain or let us foot the bill by providing our military for their protection. Right, Europe?
The problem here, Ken, is that despite all the nonsense and diddling and messing around we have done, a properly done income tax system is one of the simplest and easiest forms of taxation to manage and maintain. The US has never really needed to add other blatant forms of taxation since then, even with the monumental spending orgy that started in the mid-to-late 1990s right up until today.
Yes, we need to cut spending on a massive level, and the Czar here is all in favor of a flat tax system that makes everybody pay the same percentage rate, and—just as importantly as the first two conditions—we need to wipe out the ridiculous loopholes upon loopholes that makes our tax code impossible for a human to really understand.
Our government could survive indefinitely on such a simplified system, as well put a lot more money in your pocket. Arguably (although pretty much for certain) it will allow the elite wealthy to pay more in taxes, but remain liquid longer and more safely. By setting a simple recipe for exemptions (say, $10,000 per taxpayer and dependents), it guarantees the poor still won't have to pay taxes. It's a win-win…unless of course you have loopholed yourself out of paying taxes. Yeah, those people who skirt the edge of taxation yet demand the most from government in exchage…well, they might get screwed a little bit. Hear that sound? That's us weeping.
So don't be too hard on the 16th Amendment. Let us try, first, to fix what we have. Ease into it. But a harsh and cold repeal puts us down a path you won't want to go.

Божію Поспѣшествующею Милостію Мы, Дима Грозный Императоръ и Самодержецъ Всероссiйскiй, цѣсарь Московскiй. The Czar was born in the steppes of Russia in 1267, and was cheated out of total control of all Russia upon the death of Boris Mikhailovich, who replaced Alexander Yaroslav Nevsky in 1263. However, in 1283, our Czar was passed over due to a clerical error and the rule of all Russia went to his second cousin Daniil (Даниил Александрович), whom Czar still resents. As a half-hearted apology, the Czar was awarded control over Muscovy, inconveniently located 5,000 miles away just outside Chicago. He now spends his time seething about this and writing about other stuff that bothers him.