NYT Breaking News: Obama Losing Popularity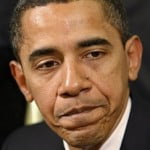 Sharp-brained Gormogon readers (the Czar repeats himself, as you are all sharp-brained) will recall the Czar musing on the development of a new meme: One-Term President, which has been catching on fire among the liberal media. Some of us, however, have been saying this for a while.
Things have been so bad for Mr. Obama lately that actually it is pretty tough to think when he produced any good news at all. Osama, maybe? Anyway, more bad news hits the President: Maureen Dowd has been infected by the meme. You can read her latest, in which she not only discusses the possibility of a one-term Obama presidency, but writes with an undeniable air of inevitability about it:
Obama is still suffering from the Speech Illusion, the idea that he can come down from the mountain, read from a Teleprompter, cast a magic spell with his words and climb back up the mountain, while we scurry around and do what he proclaimed.

The days of spinning illusions in a Greek temple in a football stadium are done. The One is dancing on the edge of one term.

The White House team is flailing — reacting, regrouping, retrenching. It's repugnant.
This really does not sound anything like a calm analysis of the situation: it sounds more like someone turning on another, like when your family turned on Uncle Ed when he developed that drinking problem: not sadness, not empathy, but a dismissive and derisive "He got what he deserved." Yes, you're right—that isn't supposed to make Uncle Ed feel better; it's supposed to make everyone else feel better about deserting him.
And Mo Do, who really is 'Puter's target, effects the same insults, derisions, and scoffs toward the President that says she wants to feel better about deserting him. And just as the Obama campaign expects to get really ugly toward Republicans in 2012, we expect the Left—rapidly tiring of Barack Obama—will become quite vicious toward him in turn. When lefties turn on one of their own, the result is a feeding frenzy.


Божію Поспѣшествующею Милостію Мы, Дима Грозный Императоръ и Самодержецъ Всероссiйскiй, цѣсарь Московскiй. The Czar was born in the steppes of Russia in 1267, and was cheated out of total control of all Russia upon the death of Boris Mikhailovich, who replaced Alexander Yaroslav Nevsky in 1263. However, in 1283, our Czar was passed over due to a clerical error and the rule of all Russia went to his second cousin Daniil (Даниил Александрович), whom Czar still resents. As a half-hearted apology, the Czar was awarded control over Muscovy, inconveniently located 5,000 miles away just outside Chicago. He now spends his time seething about this and writing about other stuff that bothers him.