Mailbag – Just Desert Edition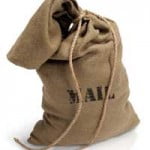 Operative ME writes in regarding Dr. J.'s sufferings at the hands of Rebecca Roberts:
As a once and future resident of Arizona, I thank you for the link to NPR segment with Ms. Roberts and the caller from Payson. The audio of Ms. Roberts interacting with the callers is indeed priceless, especially the difference between her reaction to the various callers who had weapons in their survival packs and her reaction to the person who had airline tickets to Tahiti.
I found the best part of the segment her reaction to Rock from Payson, expressing surprise that anyone would be able to fish in Arizona. I don't fault her for not knowing either where Payson or that is near a number of lakes and streams because she doesn't have the need to know and I think people like Rock like it that way. However I do fault her for her overweening hubris. Given her age and her pedigree, Ms. Roberts is no newbie to the field of journalism (I heard her work on Bikram Yoga and transgenic goats was very insightful) and yet she's off making mistakes that would get my kids confined to the guardhouse on a strict diet of bread and Cheerwine.
First of all who knows more about the ability to fish in the Payson area, a man who lives there or Ms. Roberts who is sitting in a studio? Of course it's the former, but then why does she question him? You see this all the time in the media where a personality or reporter feels that a career skimming the surface of various topics makes them more of an expert than someone who has extensive and direct first-hand knowledge of the given area, especially when that local expert holds a view that contradicts that of the personality. So to Ms. Roberts she knows there are deserts in Arizona, deserts tend not to have water, and therefore it is surprising anyone can fish. Of course those massive forest fires we had this past summer, a story I think they reported numerous times on NPR, should have tipped her off that Arizona has more than sand and the occasional cactus.
Second, who says you cannot fish in the desert? Did she assume we get our water via camel caravan and appealing to the sky gods? Last I looked, there was a thriving local industry in things like fishing supplies and boats because Phoenix is surrounded by lakes, because you know it helps to build cities by large supplies of water. Might not be enough fish to feed 4 million people but as my kids can readily attest, you can get some good fishing in before doing the afternoon chores.
Now if Ms. Roberts was really on her game, she could have asked Rock some really informed questions like what did he really expect to hunt/defend with .22 caliber ammunition? Squirrels?
Dear Operative ME, thank you for writing in. When Dr. J. returns home to the Northeast, nothing is more frustrating than when his friends and relations look down upon his peaceful and calm life in New Atlantis. You are right that Ms. Roberts should stick to her skill set.
With regard to Rock's choice of firearms, this is not Dr. J.'s expertise. Dr. J. shot .22 rifles at camp as a Cub Scout, used a 12 gauge to shoot skeet once in medical school, and has done a bit of archery. As a consequence, Dr. J. is most fond of a crossbow, because what it lacks in stopping power it makes up for with an intimidation factor. You could imagine a person's reaction, when they're breaking into a house, and THWACK, they feel a sharp pain in their thigh and see a crossbow bolt sticking out! Besides, any weapon initially banned by the Papacy makes for a fine choice. As far as pistols go, Dr. J. agrees with you, something with a larger caliber makes far more sense for hunting and self defense.