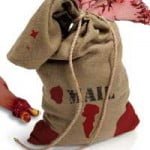 Once in a while, the Czar says something he believes will generate a lot of grief, and is surprised to find people agree with him. The Czar made such a comment the other day, and has received a couple of short messages in support of it. And late last night, the Czar received a longer, more interesting email from no less a personage than Borepatch himself (whom you read every day, right?).
Also sprach Borepatch:
In your post on evolution, you wrote: "if your faith is weak, you are threatened by evolution."

Of course, you are correct.

One might say that this is an adequate explanation to much of the Left's hysterical reaction to Sarah Palin (and now Gov. Perry). If they were comfortable that much of the country actually supported their agenda, they wouldn't be freaking out right now. The "dial it up to 11" act seems a reliable indicator that the subject lacks conviction in a positive outcome.
Wow, what a great juxtaposition, but yeah, that is dead on the money.
Note that Borepatch is not saying that fundamentalist literalist interpretation of Genesis is something the Left believes. What he is saying is that the same manifestation of intellectual panic is occurring in both groups for two different reasons.
Among people who believe that Genesis is a strictly literal depiction that contradicts the explanations of evolutionary theory (whew!), the numbers are not good. Despite some periodic polls that flicker around the web stating otherwise, long-term analysis shows most people do not view the dual-creation theories found in Genesis to be factually sound (or even internally consistent). While most people remain hazy on the actual concepts and demonstrations of evolution, a majority of people understand its broader applications enough to accept it. In other words, most religious people and non-religious people have no trouble with evolution because the math checks out.
Those who promote a strict "young earth creationist" theory are losing members, and are ratcheting up the volume and intensity of their message. New websites, new letters to the editor, and new challenges to Boards of Education are effectively the same old, consistently debunked ideas presented with new wrapping. This should all quietly fade away within thirty years.
Likewise, the Left is going through a similar hysteria about the Right. Government, Hollywood, the news media, and the other Lefty message-pushers are starting to red line. Most Americans no longer like the idea of big, intrusive government. Pro-liberal themed movies and television shows are bombing. The news media is being ridiculed for incontrovertible Lefty bias, and the internet is surpassing it for balanced news analysis.
Only 18% of Americans really view themselves as liberals, yet their messages have been the dominant voice for decades. We now are seeing an undeniable swing to the Right that will take considerable time, but the Czar believes it will be far more substantial than the brief respite we enjoyed in the Red Dawn 1980s. And, as such, the Left is beginning to panic—especially with the popularity of characters like Sarah Palin and Rick Perry. As much as they loathed George W. Bush for legitimately and honestly defeating Al Gore in 2000, the idea of a Palin or Perry presidency positively loosens their bowels.
Their worldviews are collapsing. Keynesian economics is now a proven failure. The radical transformation of the US to a Euro-Nanny state (or to a China clone) is never going to happen. The quiet, calm mornings of 1984 are no longer possible. Reparations are fantasy. And at the same time, life forms evolve. The next decades will be interesting, but they won't be easy for some people.
But the math is there for all to see.

Божію Поспѣшествующею Милостію Мы, Дима Грозный Императоръ и Самодержецъ Всероссiйскiй, цѣсарь Московскiй. The Czar was born in the steppes of Russia in 1267, and was cheated out of total control of all Russia upon the death of Boris Mikhailovich, who replaced Alexander Yaroslav Nevsky in 1263. However, in 1283, our Czar was passed over due to a clerical error and the rule of all Russia went to his second cousin Daniil (Даниил Александрович), whom Czar still resents. As a half-hearted apology, the Czar was awarded control over Muscovy, inconveniently located 5,000 miles away just outside Chicago. He now spends his time seething about this and writing about other stuff that bothers him.