GorT's liberal friends and family members are likewise propagating the tripe that Dr. Warren spewed and that my esteemed collegue, 'Puter, so eloquently dissected here yesterday. And it is complete garbage. At face value it is, at best, a call for a utopian world which does not exist and, at worst and likely most truthfully, a call for wealth redistribution and class warfare. But in the end, this is nothing but a distraction from the real issue: we have a government spending problem.
If one cares to dialog with Dr. Warren about this quote or the so-called "Buffet Rule", the first question should be, "How much more should the wealthy pay?" In GorT's experience, liberals cannot or will not answer that. First, it places a cap on the amonut they want to redistribute. Second, it grounds the argument into real terms – once a number or percentage increase is stated, that is converted into real value and everyday people can start doing the math and figuring out what the impact is. Third, the liberals don't have an answer to this question. They just don't know. Most likely because doing the math will show just how progressive the tax code is in this country and trying to defend that idiotic term "fair" will begin to fall apart. The top-earning 5 percent of taxpayers in 2008 (AGI over $159,619) paid approximately 58.7% of the total federal taxes. It's also important to note that the very high earners tend to have lower standard income but higher capital gains and other investment income that is taxed at a lower rate. Keep in mind, however, that this money has already been taxed once as part of corporate income taxes. Roughly, speaking, about 4.8% of the country that files taxable returns (and about 3% of the total tax filers if you include nontaxable returns) funds over 50% of the total federal tax revenue.
But let us not get distracted – this is all a sideshow to the real issue. Let's not bandaid the solution. The crux of the problem is government SPENDING. Do not, dear reader, allow yourselves to get suckered into this red herring argument. You can give any answer to the question above, but if spending isn't addressed, it won't matter and you'll be facing that same question down the road.
It's the spending, stupid.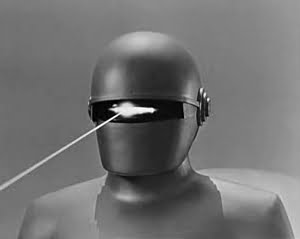 GorT is an eight-foot-tall robot from the 51ˢᵗ Century who routinely time-travels to steal expensive technology from the future and return it to the past for retroinvention. The profits from this pay all the Gormogons' bills, including subsidizing this website. Some of the products he has introduced from the future include oven mitts, the Guinness widget, Oxy-Clean, and Dr. Pepper. Due to his immense cybernetic brain, GorT is able to produce a post in 0.023 seconds and research it in even less time. Only 'Puter spends less time on research. GorT speaks entirely in zeros and ones, but occasionally throws in a ڭ to annoy the Volgi. He is a massive proponent of science, technology, and energy development, and enjoys nothing more than taking the Czar's more interesting scientific theories, going into the past, publishing them as his own, and then returning to take credit for them. He is the only Gormogon who is capable of doing math. Possessed of incredible strength, he understands the awesome responsibility that follows and only uses it to hurt people.