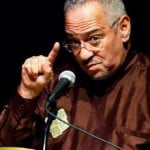 Dr. J. saw this over at Professor Mondo's blog:
Victor David Hanson at NRO writes: There is much talk about what some are perceiving as the fringe religiosity of Republican candidates such as Michele Bachman and Rick Perry. But the media established the precedent four years ago that no candidate can be held responsible for his church. Barack Obama's pastor of more than 20 years, the Rev. Jeremiah Wright, was an unapologetic racist, an anti-Semite, and a raving conspiracy theorist whose parishioners gave him standing ovations for his hate-filled "G*d damn America" rants.
Dr. J.'s mother-in-law always said, "Show me your friends and I will tell you who you are."
The Reverend Wright is a pretty angry guy who has had his share of interesting sermons
available on digital disk
, by the way.
Dr. J. suspects that he would feel more comfortable and theologically aligned pulling up a pew in Mrs. Bachman's or even Mr. Perry's church, rather than at the TUCC.
But we all know that the President didn't pay attention or hear anything untoward during his time as a parishioner. Dr. J. suspects he only went there because it was Mrs. Obama's church of choice, and it helped him out politically. Wait, didn't the late Senator Byrd make similar arguments excusing his membership in an unfortunate choice of civic organization during his ill-spent youth?