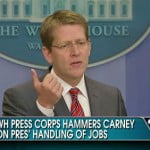 Sometimes, the Czar feels really sorry for White House Press Secretary Jay Carney. He repeatedly goes before the world press, explains exactly what the President meant to say, in no uncertain terms, and rejects any notion that there is another, embarrassing explanation.
And about fifteen minutes later, someone in the administration admits that, yes, the embarrassing explanation is the correct one.
There are a couple of explanations:

They are doing it on purpose to make him look like a fool or an idiot. Which he isn't. This is not as strange a possibilility as it seems. He could be the guy sent out there to send up a balloon. If no one questions it, that's the story they go with. If the press jumps all over him, they come up with a more plausible explanation, and hang him out to dry.
They don't really care about him; basically he's there to take out the garbage. In this scenario, he simply exists to keep the press busy while the rest of the administration frets over how the hell any of them are going to find new work in 2013. Another bad poll? No problem, let Carney handle it. Meanwhile, the rest of the staff here will vote Republican in hopes we can get the economy cleared up to where, at least, Home Depot could hire us.
And what is better than getting a challenge to either hypothesis before you even got to read it? MC is over at the Castle tonight, and mentioned to the Czar that Carney might be an actual, you know, fool. "He took the job, didn't he? After Gibbsy? I think that's a moron-class decision there," MC said, ordering another Pitcher of Shots from the bar.
Maybe, but what a world of difference there is between Gibbs and Carney. We shall explain:
"Mr. Secretary, it is largely assumed that no president can be re-elected with an unemployment rate at 9% or higher. With the OMB predicting that unemployment will not drop below 9% next year, how will this affect the President't campaign strategy?"
Carney: I never said that it would or wouldn't. What I am saying, and what I believe the President made quite clear this morning, is that the unemployment outlook is generally and genuinely quite favorable. I…uh…what? Okay, I haven't heard about the OMB prediction, but I will caution you that predictions are just that, okay? They are predictions, and predictions can be wrong. We don't know what the motivation was of the OMB when they…okay, so I didn't realize that the OMB was part of the Executive Branch. I'm not sure the President knew this, either, when he quoted from them this morning.
Gibbs: Well, the OMB didn't say that. Actually, no, they didn't…no, that simply isn't true. You should go check your sources on that one. What they said was that unemployment would hold steady, okay? You know what that means? That means that businesses now have a baseline on which they can plan. I'm not a business owner, but I can pretty well bet that a business owner needs some sort of baseline, and we just gave them one. A good one. You can bet on that, so that's why the President is not at all worried about his campaign. You can print that. Print that right now.
See the differences? Gibbs simply made shit up, and challenged the press to Google him if they doubted his claims. And when they did, he denied ever making the statement in the first place. On the other hand, Carney is constantly hitting walls of truth and bouncing off them, like some poor pinball.
Carney must realize that this point that he is walking a plank. He knows the press is better informed than he is, and that any good, solid statement he makes will be contradicted within the hour by someone else in the White House. One of these days—and trust the Czar on matters like this—Carney is simply going to show up to a press conference in a sweatshirt, three or four beers in him, and just shrug off every question with "What the hell do I care?"
Either way, it seems, he will also be looking for work in 2013.

Божію Поспѣшествующею Милостію Мы, Дима Грозный Императоръ и Самодержецъ Всероссiйскiй, цѣсарь Московскiй. The Czar was born in the steppes of Russia in 1267, and was cheated out of total control of all Russia upon the death of Boris Mikhailovich, who replaced Alexander Yaroslav Nevsky in 1263. However, in 1283, our Czar was passed over due to a clerical error and the rule of all Russia went to his second cousin Daniil (Даниил Александрович), whom Czar still resents. As a half-hearted apology, the Czar was awarded control over Muscovy, inconveniently located 5,000 miles away just outside Chicago. He now spends his time seething about this and writing about other stuff that bothers him.