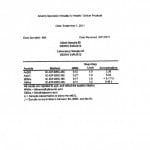 Thanks to the magic that is Twitter, we have seen some retweeting of our post on Dr. Oz's inability to understand science, despite the fact he somehow functions as a freaking heart surgeon or something. Evidently, lots of you have been recommending that concerned citizens come to the Gormogons (always a wise policy) to get schooled on the facts.
Problem is, we don't really get into it. So this post is here to help you.
Arsenic is a naturally occuring metalloid (not quite a metal, but not quite water or wood putty either) that is found all over the place. There are two types: the toxic inorganic arsenic, and the non-toxic organic arsenic found in apple juice. Actually, organic arsenic is found in rice, chicken, kelp products, mushrooms, some animal feeds, and most seafood (both shellfish and fish) products. In fact, it is so commonplace that you already have ingested quite a bit of it.
Since arsenic is found naturally in the environment, you will be exposed to some arsenic by eating food, drinking water, or breathing air.
It is that simple.
Dr. Oz has his own website in which he disputes this with a very recent update that indicates he now understands the differences between the two. And that his researchers found inorganic arsenic in apple juices, although he provides information on only one particular brand of apple juice. He does not make his exciting data available except for this.

Therein, he lists four types of arsenic: As(III), As(V), MMAs, and DMA: the first two are inorganic, the second two are organic. The respective concentrations were 2.38, 5.52, <0.17, and 0.48...parts per billion, we guess, although he does not provide the exact unit of measure. Oz states that this is above the 10ppb the EPA allows in drinking water, but these numbers added together only add up to 8.55ppb. This is safe to drink. What he means, of course, is that the EPA sets 10ppb as a limit on tap water; the EPA does not set a level for bottled water, which can be well above 10pbb. The EPA, incidentally, does not provide limits on arsenic for any other food product. In response, you need to look at a material data safety sheet which (a) recommends you look elsewhere for exposure limits, (b) provides a time-waited average daily exposure of 100 ppb (ten times the EPA limit), and (c) an LD50 of 145 mg/kg…meaning that you need a pretty big dose of it before it really kills even half of typical people.
A reasonable question to ask is why he believes inorganic arsenics well below the safe level for tap water, and trace amounts of harmless inorganic arsenics, are dangerous enough to terrify the public. Instead of answering such an obvious question, Oz simply concludes his defense by saying more studies are needed. That is hardly a defense of a position: it is simply a cop out.
Maybe we could use more research, but he should have produced any data suggesting these are harmful levels before making the charge. Once again, the proof of harm is on the claimant, given there is proof that the levels are safe. ("Driving 10mph is dangerous!" "Why?" "More research is needed!")
Instead, here is what we really have: Oz learned there was arsenic in apple juice (as there is in a lot of things), and freaked out. He knew this was a sensational claim, and ran some tests of his own. His tests conclude that there are some tiny amounts of (naturally occurring) arsenic, but compared these to the insanely low EPA recommendation for tap water because, really, that's the only publicized limit he could find. Because he was originally freaked, he decided to stretch the evidence to support what he wanted to see. This is not medical research: it is scare-mongering for ratings.
In short, Oz's argument goes like this: we found a negligible amount of arsenic (both organic and inorganic) well below safe levels in one brand of apple juice. We are not making public any additional data for other brands, and we cannot explain why our analysis concludes apple juice to be remotely dangerous to drink.
Shorter still: don't trust a thing this guy says. Trust only Dr. J.

Божію Поспѣшествующею Милостію Мы, Дима Грозный Императоръ и Самодержецъ Всероссiйскiй, цѣсарь Московскiй. The Czar was born in the steppes of Russia in 1267, and was cheated out of total control of all Russia upon the death of Boris Mikhailovich, who replaced Alexander Yaroslav Nevsky in 1263. However, in 1283, our Czar was passed over due to a clerical error and the rule of all Russia went to his second cousin Daniil (Даниил Александрович), whom Czar still resents. As a half-hearted apology, the Czar was awarded control over Muscovy, inconveniently located 5,000 miles away just outside Chicago. He now spends his time seething about this and writing about other stuff that bothers him.