While my guitar gently weeps…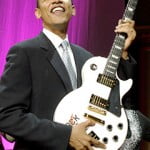 New Atlantis played host to Federal Agents this week as they performed a daring raid on Gibson Guitar a purveyor of the finest guitars in the world. The reason for the raid was that the Feds feared that Gibson was building guitars with illegally harvested hardwood.
Back in 2009, they were raided on suspicion of crafting guitar necks out of ebony clandestinely smuggled out of Madagascar in the alimentary canals of human mules or some such nonsense. As best as Dr. J. can determine, the Feds did not find anything worth pursuing.
This week, the raid was to compel Gibson to prove beyond a reasonable doubt that their new hardwoods from India were obtained with, not only perfect t-crossing and i-dotting, but absurdly, with respect to Indian law.
Per Henry Juszkiewicz, CEO of Gibson:
"The Federal Department of Justice in Washington, D.C. has suggested that the use of wood from India that is not finished by Indian workers is illegal, not because of U.S. law, but because it is the Justice Department's interpretation of a law in India. (If the same wood from the same tree was finished by Indian workers, the material would be legal.) This action was taken without the support and consent of the government in India."
(Emphasis added by Dr. J.)
Yes, you read it correctly folks, the U.S. Department of Justice is now in the business of enforcing its interpretation of Indian Law. This is nothing less than harassment of a successful American business that is headquartered in a red state. Gibson relocated its headquarters from Michigan in the 1990s. Dr. J. didn't realize that it was in the purview of the Justice Department to enforce other nation's protectionist trade policies while ignoring American crimes and laws whole cloth, or for that matter to have Interior act as its proxy in such matters.
It is clear that the executive branch has its priorities mixed up, and when it comes to law enforcement, that dangerous for any free Republic.